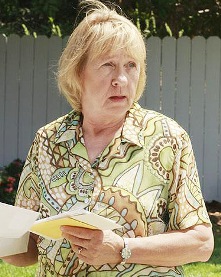 Kathryn Joosten, a sarcástica Karen McCluskey, de "Desperate Housewives", faleceu no último dia 1º de junho, aos 72 anos de idade, vítima de câncer no pulmão, segundo informou sua assessora, Nadine Jolson, à Associated Press.
Kathryn foi diagnosticada com a doença em 2001, razão pela qual ela largou o hábito de fumar, adquirido no final da década de 1950. A atriz conseguiu superar a doença após passar por um tratamento porém, em 2009, os médicos encontraram um novo tumor, em estágio III. Submetendo-se a uma cirurgia e a tratamento de quimioterapia, ela conseguiu manter a doença sob controle. Nas últimas semanas, infelizmente, a saúde de Kathryn piorou.
Ao longo dos anos ela esteve presente em diversas séries, como "The West Wing", "3rd Rock From The Sun", "ER", "Seinfeld", "Frasier", "Just Shoot Me!", "The Nanny", "Home Improvement", "Buffy", "Becker", "Hope & Faith", "Charmed", "Less Than Perfect", "Strong Medicine", "The King of Queens", "Will & Grace", "Life with Bonnie", "Everwood", "Gilmore Girls", "Grey's Anatomy", "Malcolm", "Reba", "The Closer", "My Name is Earl", "Monk", "Scrubs", "The Mentalist", "Joan of Arcadia" e "Harry's Law".
Felizmente Kathryn conseguiu concluir suas gravações em "Desperate Housewives", porém, acabou falecendo dois dias antes do final da série no Brasil.

Receba nossas publicações por e-mail:

DEIXE SEU COMENTÁRIO (VIA FACEBOOK)
Não tem Facebook? Use o formulário abaixo:
Quer ter sua foto ao lado do comentário? Cadastre-se no Gravatar!
ATENÇÃO:
Toda e qualquer mensagem publicada através do sistema de comentários não reflete a opinião deste site ou de seus autores. As opiniões enviadas através deste sistema são de exclusiva e integral responsabilidade dos visitantes que dele fizerem uso.