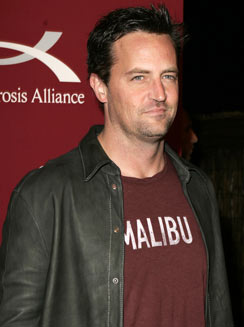 Depois do fracasso (de audiência, que fique BEM claro) de "Studio 60 on The Sunset Strip", Matthew Perry está de volta ao universo das séries, numa nova comédia que será produzida pelo canal por assinatura Showtime, nos Estados Unidos.
"The End of Steve" é o nome do projeto assinado pelo produtor executivo Peter Tolan, que traz em seu currículo séries como "Rescue Me", "Home Improvement" e "The Larry Sanders Show". Trabalhando ao lado de Tolan, Perry interpretará um amargo apresentador de um talk show e, além disso, também produzira a série que já teve a produção do episódio piloto confirmada.
E, se não bastasse o retorno do eterno Chandler Bing, o canal Showtime afirma que os telespectadores conhecerão um lado negro de Matthew Perry nunca visto antes. Perry, além de ser um dos seis amigos inesquecíveis de Manhattan, também já foi indicado 4 vezes ao prêmio Emmy. Uma vez por seu papel em "Friends" (2002), duas vezes por suas participações no drama "The West Wing" (2003 e 2004) e, por último, em 2007, pelo telefilme "The Ron Clark Story".
O Showtime, canal responsável por séries como "The L Word", "Californication", "Dexter" e "Weeds", tem a fama de produzir e exibir programas polêmicos, pois por se tratar de um canal veiculado via TV por assinatura, existe maior liberdade para tratar certos assuntos. O Showtime foi responsável pelo sucesso de "Queer as Folk". Porém o canal também foi responsável pela fracassada "Fat Actress", série de Kirstie Alley, que focava na vida de uma atriz que ganhou peso e ficou fora do show business. O programa foi baseado na vida real da atriz protagonista.

Receba nossas publicações por e-mail:

DEIXE SEU COMENTÁRIO (VIA FACEBOOK)
Não tem Facebook? Use o formulário abaixo:
Quer ter sua foto ao lado do comentário? Cadastre-se no Gravatar!
ATENÇÃO:
Toda e qualquer mensagem publicada através do sistema de comentários não reflete a opinião deste site ou de seus autores. As opiniões enviadas através deste sistema são de exclusiva e integral responsabilidade dos visitantes que dele fizerem uso.