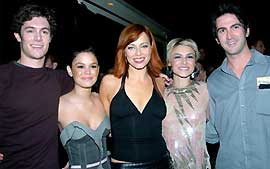 Criador de uma das séries teen de maior sucesso da década, Josh Schwartz - o pai de "The O.C."- anda a mil por hora. São dele também duas das mais badaladas séries novas, "Chuck" e "Gossip Girl". Mesmo assim, o criador de Seth, Ryan e companhia adora relembrar a família Cohen e seus agregados e bateu um papo sobre a série com o TV Guide, por ocasião do lançamento da caixa de DVDs completa da série nos Estados Unidos.
Na entrevista, ele fala de seus episódios preferidos, de como era escrever para cada personagem e de como criou nosso querido Seth baseado... em si mesmo! Leia alguns trechos:
— Levando em conta que você tem "Chuck" e "Gossip Girl", você não deve ter tempo de ficar revendo episódios antigos de "The O.C.", tem?
Ah, eu fico muito nostálgico. Outro dia eu vi sem querer na TV o episódio de Tijuana. Fiquei extremamente nostálgico, lembrando onde eu estava quando escrevi o episódio e tudo mais. Foi emocionante. Sim, esse episódio tudo se juntou. Se você me perguntar quais episódios exemplificaram completamente "The O.C.", Tijuana é definitivamente um deles. Eu estava no meu escritório numa noite de sábado, no verão, escrevendo até de madrugada.
— Que outros episódios você diria que representam "The O.C." perfeitamente?
Hum... Com certeza o piloto. E Tijuana. Tem alguns episódios de dias especiais e feriados que eu fiz bem. Dia de Ação de Graças, The Goodbye Girl, quando Anna parte. The Rainy Day Women, na segunda temporada é um dos meus favoritos. O beijo "Homem-Aranha" de Seth e Summer. Tem também o episódio do Chrismukkah na segunda temporada e o final dessa temporada, embora sejam de uma fase mais sombria, melodramática. Eu acho que aquele episódio tinha as boas qualidades da série. Muitos dos que fizemos na quarta temporada, para mim, foram como um retorno a uma fase romântica, com histórias com um fundo de comédia e pouco melodrama.
— Você diz isso por causa do elenco menor? Você meio que ficou focado só nos personagens centrais?
Sim, nós ficamos com o elenco central e, para mim, eu senti que talvez as coisas tenha ficado exageradas na terceira temporada, teve a história do Johnny. Acho que na quarta temporada quisemos focar em menos personagens e deixar a série mais leve. O romance Ryan-Taylor foi o responsável por isso em boa parte. E acho que o quarto episódio da quarta temporada é particularmente um dos meus favoritos. Eu também gosto o que teve o mundo paralelo no Chrismukkah e gosto muito de como a série terminou.
— Para qual personagem você mais gostava de escrever?
Poxa. Sabe, eu adorava escrever a série. Você começa a antever como serão as performances, e cada personagem era tão diferente do outro. Escrever uma cena para Caleb e Sandy Cohen era completamente diferente de escrever uma cena Summer-Marissa. As cenas Seth-Summer eram sempre divertidas de fazer, assim como as Seth-Ryan, e eu sempre adoro escrever conversas de pais e filhos. Dito isso, Julie Cooper talvez seja a personagem mais divertida para quem eu escrevi.
— Quando "The O.C." estreou, havia muito papo sobre Seth Cohen ser seu alterego. Era verdade?
No começo era. Ele era meu jeito de me inserir no programa. Sabe, eu não tinha assistido a muitas séries adolescentes antes. Eu vi muitos filmes teen dos anos 80, mas não vi "Beverly Hills, 90210" ou "Dawson's Creek". Então Seth era meio que meu ponto de vista sobre aquele mundo. Mas obviamente que o foco acabou sendo muito mais na performance do Adam Brody. Até porque 92 episódios obviamente não podem ser todos autobiográficos.

Receba nossas publicações por e-mail:

DEIXE SEU COMENTÁRIO (VIA FACEBOOK)
Não tem Facebook? Use o formulário abaixo:
Quer ter sua foto ao lado do comentário? Cadastre-se no Gravatar!
ATENÇÃO:
Toda e qualquer mensagem publicada através do sistema de comentários não reflete a opinião deste site ou de seus autores. As opiniões enviadas através deste sistema são de exclusiva e integral responsabilidade dos visitantes que dele fizerem uso.