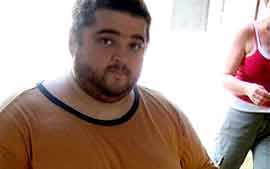 Será que foi porque a TV Oline comparou seu corte de cabelo (ou a falta dele) ao de um poodle? O fato é que, como você pode ver na foto ao lado, o Hurley de "Lost" já não é mais o mesmo. Suas madeixas encaracoladas e ensebadas (a gente dá um desconto, ele está numa ilha) se foram.
Quem mostrou o novo visual foi o próprio ator Jorge Garcia, que postou a foto em seu blog Dispatches From the Island. E, no fórum The Fuselage, que reúne fãs de "Lost", Garcia explicou que cortou o cabelo "em seu trabalho".
O blog Lost in Lost já está especulando: ou Hurley teve seu cabelo raspado na ilha ou o novo visual entrega que os dias do gorducho na ilha estão contados. Será?

Receba nossas publicações por e-mail:

DEIXE SEU COMENTÁRIO (VIA FACEBOOK)
Não tem Facebook? Use o formulário abaixo:
Quer ter sua foto ao lado do comentário? Cadastre-se no Gravatar!
ATENÇÃO:
Toda e qualquer mensagem publicada através do sistema de comentários não reflete a opinião deste site ou de seus autores. As opiniões enviadas através deste sistema são de exclusiva e integral responsabilidade dos visitantes que dele fizerem uso.