Pela primeira vez na história da TV, uma série da Netflix estreia num canal de televisão. O Paramount Channel traz para seus assinantes "House of Cards", série original do site de streaming.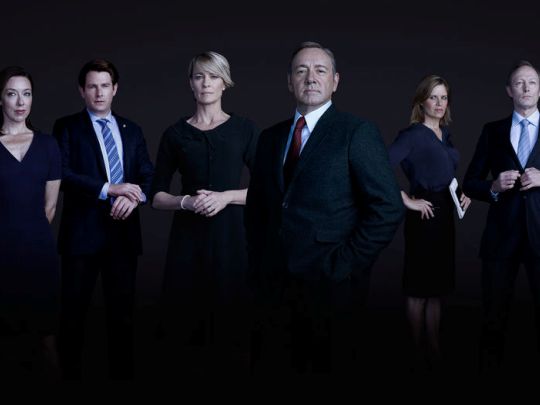 A série narra a trajetória de Frank Underwood (Kevin Spacey), um político que lidera a bancada majoritária da Câmara dos Representantes dos Estados Unidos. Ele fica decepcionado quando descobre que não ocupará o cargo de Secretário de Estado da nova gestão, posto que foi prometido anteriormente a ele, pelo agora recém-eleito presidente.
Em vez de aceitar a derrota, Frank decide usar seu conhecimento sobre os bastidores da política para orquestrar sua vingança.
A atração estreou em 2013, pela Netflix e já garantiu sua renovação para uma 5ª temporada, que estreia no serviço de streaming no dia 30 de maio. Confira abaixo a chamada da série, que será dublada pelo canal:
"House of Cards" estreia no canal pago Paramount Channel, na terça-feira, dia 14 de março, a partir das 22h.

Receba nossas publicações por e-mail:

DEIXE SEU COMENTÁRIO (VIA FACEBOOK)
Não tem Facebook? Use o formulário abaixo:
Quer ter sua foto ao lado do comentário? Cadastre-se no Gravatar!
ATENÇÃO:
Toda e qualquer mensagem publicada através do sistema de comentários não reflete a opinião deste site ou de seus autores. As opiniões enviadas através deste sistema são de exclusiva e integral responsabilidade dos visitantes que dele fizerem uso.