SINOPSE
O que acontece quando uma vida de celebridade colide com a pacata vida de esposa e mãe?
Hope e Faith têm vivido em dois mundos bem diferentes. Hope é uma mãe caseira que mantém-se ocupada cuidando de sua família em Glen Falls, Ohio, que inclui seu marido Charley e os três belos filhos deles. Sua famosa irmã Faith desfruta de tudo o que uma atriz pode ter em Hollywood, até que sua personagem Ashley Storm acaba sendo morta na novela "The Sacred and the Sinful" — por sua fictícia irmã gêmea do mal. Faith, que nunca guardou nada do que ganhou, acaba procurando refúgio na casa de sua irmã.
Hope, que sempre foi "pé no chão", vê sua vida mudar com a chegada de sua irmã famosa, como se não lhe bastasse o trabalho com suas duas filhas — Hayley, uma precoce pré-adolescente, e Sydney, uma rebelde adolescente — e Justin, o filho caçula cheio de manias. Mas Hope começa a perder o controle enquanto tenta se adaptar à chegada da carismática Faith, cujas atitudes acabam atrapalhando todos ao redor dela. Agora, Faith terá que viver sob regras de seu cunhado, conseguir um emprego (ou vários) e ainda aguentar as normalidades de uma vida pacata no interior de Ohio.
Será que Faith vai conseguir se adaptar a vida longe dos holofotes sem virar o mundo de Hope de cabeça para baixo? E será que Hope poderá dividir o mesmo teto com sua espaçosa irmã e ainda assim manter tudo em ordem?
CURIOSIDADES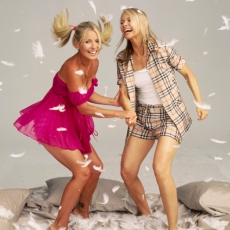 Josh Stamberg, Brie Larson e Slade Pearce foram os contratados originais para interpretar Charley, Sydney e Justin. Eles chegaram a filmar o episódio piloto em 30 de abril de 2003. Devido às diferenças criativas, os atores e atrizes foram despedidos, dando lugar a Ted McGinley, Nicole Paggi e Paulie Litt, os quais refilmaram o episódio piloto no dia 16 de agosto de 2004.
Confira uma foto do elenco original
.

Na primeira temporada da série, a personagem Sydney Shanowski foi interpretada pela atriz Nicole Paggi que, embora interpretasse uma adolescente, já tinha 27 anos na época. A partir da 2ª temporada, Megan Fox assumiu o comando da personagem.
ELENCO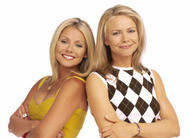 Faith Ford
(Hope Marie Shanowski)

Kelly Ripa
(Faith Fairfield)

Macey Cruthird
(Hayley Shanowski)

Ted McGinley
(Charley Shanowski)

Paulie Litt
(Justin Shanowski)

Megan Fox
(Sydney Shanowski)

Nicole Paggi
(Sydney Shanowski)
MÚSICA DE ABERTURA

"
Sisters
", de Tina Sugandh
Audio clip: Adobe Flash Player (version 9 or above) is required to play this audio clip. Download the latest version here. You also need to have JavaScript enabled in your browser.
NO BRASIL

* Aqui estão listadas as emissoras que já exibiram o seriado no Brasil, o que não significa que, atualmente, estes canais estejam transmitindo o programa. Para mais informações clique no canal desejado e consulte o guia de programação.
VÍDEO ABERTURA