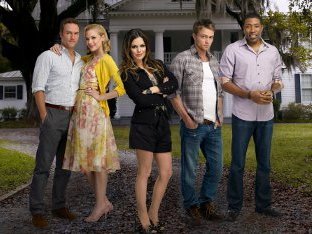 O novo canal por assinatura Glitz* está mostrando para o que veio. Depois de assumir os episódios inéditos de "Gossip Girl", renegados pela Warner Channel, o canal vai transmitir uma das estreias mais elogiadas da temporada pela emissora americana CW.
"Hart of Dixie" traz a atriz Rachel Bilson de volta às telinhas após interpretar a adolescente Summer em "The O. C.". A última aparição de Rachel na TV foi na sitcom "How I Met Your Mother".
O seriado está prevista para estrear apenas em maio, sem data definida ainda. O canal exibirá também a quinta temporada de "Gossip Girl" a partir de abril.
Em "Hart of Dixie", Bilson vive uma médica recém-formada que resolve trocar Nova York por uma pequena cidade do Alabama para que sua carreira possa decolar. O elenco conta ainda com Scott Porter ("Friday Night Lights"), Cress Williams ("Prison Break") e Jaime King ("Gary Unmarried").
A promo acima resume a série. Ao meu ver, "Hart of Dixie" me lembra "Everwood", com algumas modificações, mas com o mesmo enredo de gente nova numa cidade pequena, buscando uma mudança na vida, buscando fazer a diferença.

Receba nossas publicações por e-mail:

DEIXE SEU COMENTÁRIO (VIA FACEBOOK)
Não tem Facebook? Use o formulário abaixo:
Quer ter sua foto ao lado do comentário? Cadastre-se no Gravatar!
ATENÇÃO:
Toda e qualquer mensagem publicada através do sistema de comentários não reflete a opinião deste site ou de seus autores. As opiniões enviadas através deste sistema são de exclusiva e integral responsabilidade dos visitantes que dele fizerem uso.