SINOPSE
"Growing Pains" conta a história da família Seaver. Eles moram em Long Island, Nova York. Jason Seaver é o pai, um psiquiatra que decidiu trabalhar em casa quando Maggie, sua esposa, resolveu voltar ao trabalho de jornalista, como âncora de notícias do canal 19.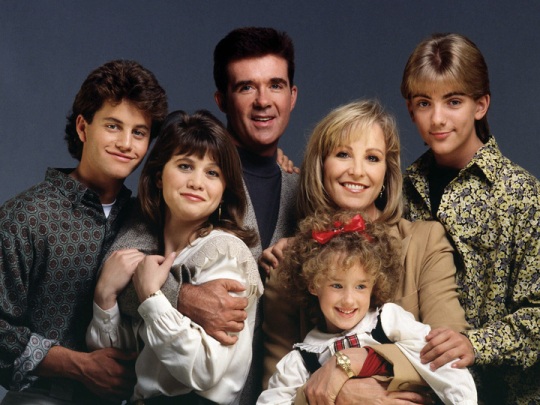 Juntos, Maggie e Jason criaram 4 filhos. Eles frequentemente se preocupam com coisas como "quem vai ficar com o bebê?", ou se eles estariam presentes para as necessidades dos filhos. Assim, as responsabilidades foram dividas para que nada desse errado. A mais nova, Chrissy, nasceu na 4ª temporada e de repente "cresceu", de um bebê, tornou-se uma criança de 5 anos, entre a 5ª e a 6ª temporada.
O mais velho dos filhos é Mike, um charmoso e "malandro" rapaz, que ajudou com que "Growing Pains" permanecesse na audiência, após estar no auge, aparecendo frequentemente em capas de revistas. Durante a 4ª temporada, Mike se mudou... mas não para muito longe, indo morar no quarto em cima da garagem.
A segunda mais velha é Carol. Ela é completamente o oposto de Mike, ela tira somente "A" (uma "nerd", de acordo com seus irmãos), ultrapassando todos os obstáculos da escola, exatamente como a maioria das adolescentes. De uma plástica no nariz, até ter que lidar com a morte de seu namorado e tolerar sua colega de quarto na Columbia University, Carol adicionou muitas cenas cômicas, como muitas cenas sérias em "Growing Pains".
O próximo é Ben, um esperto co-artista, um pouco ingênuo durante sua adolescência. Às vezes sendo "cobaia" de Mike e outras vezes seu pior pesadelo.
E é claro, o Sr. Leonardo DiCaprio — com 16 anos na época — juntou-se ao elenco na última temporada, quando a série sentiu que a audiência estava caindo. Os Seavers, relutantes no início, acolheram o garoto sem lar. Luke Brower era um dos colegas de Mike, na Clínica de Saúde da Comunidade e rapidamente tornou-se um dos Seavers. Luke deixou a família Seaver para ajudar seu pai a abrir uma parada de caminhões em Tuscon. A série acabou antes que Luke pudesse voltar. Maggie conseguiu um emprego em Washington D.C, o que fez com que a família precisasse se mudar. No último episódio, a família Seaver faz um piquenique no chão de sua sala vazia, relembrando o passado.
CURIOSIDADES

O filme "Growing Pains: Return of the Seavers" foi lançado em 16/10/2004. A história gira em torno da venda da casa da família Seaver e Mike tornando-se senador. Leonardo DiCaprio não participou.
ELENCO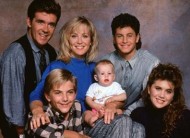 Alan Thicke
(Dr. Jason Roland Seaver)

Joanna Kerns
(Margaret "Maggie" Katherine Malone Seaver)

Kirk Cameron
(Michael "Mike" Aaron Seaver)

Tracey Gold
(Carol Anne Seaver)

Jeremy Miller
(Benjamin "Ben" Hubert Horatio Humphrey Seaver)

Ashley Johnson
(Christine "Chrissy" Ellen Seaver)

Kelsey Dohring
(Christine "Chrissy" Ellen Seaver)

Kirsten Dohring
(Christine "Chrissy" Ellen Seaver)

Chelsea Noble
(Kate MacDonald)

Leonardo DiCaprio
(Luke Brower)
MÚSICA DE ABERTURA

"
As Long As We've Got Each Other
", de B.J. Thomas e Jennifer Warnes
Audio clip: Adobe Flash Player (version 9 or above) is required to play this audio clip. Download the latest version here. You also need to have JavaScript enabled in your browser.
Show me that smile again
Oh, show me that smile
Don't waste another minute on your cryin'
We're nowhere near the end
We're nowhere near
The best is ready to begin
As long as we got each other
We got the world spinnin' right in our hands
Baby, you and me
We gotta be
The luckiest dreamers who never quit dreamin'
As long as we keep on givin'
We can take anything that comes our way
Baby, rain or shine
All the time
We got each other
Sharin' the laughter and love
NO BRASIL


* Aqui estão listadas as emissoras que já exibiram o seriado no Brasil, o que não significa que, atualmente, estes canais estejam transmitindo o programa. Para mais informações clique no canal desejado e consulte o guia de programação.
VÍDEO ABERTURA