SINOPSE
"Grosse Pointe" mostra, de uma maneira cômica, os escândalos que ocorrem nos bastidores de uma novela jovem estrelada por atores muito despreparados e imaturos para lidar com a fama imediata.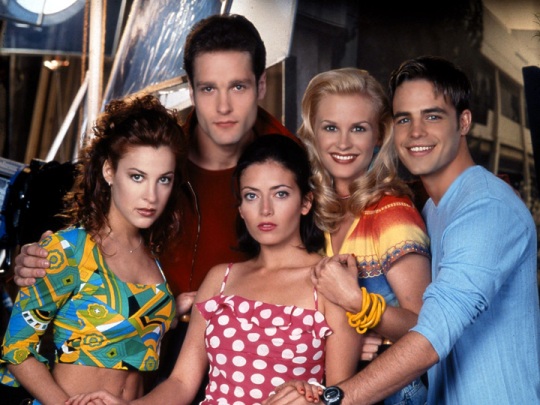 O drama de uma gravidez indesejada, flagrantes de infidelidade e ocasionais acessos de amnésia não são nada comparados ao que acontece quando as câmeras param de gravar. Johnny Lane, que interpreta o lindo herói Brad, é um surfista mulherengo que tem a sorte de ser capaz de decorar suas falas melhor do que lida com a fama.
Courtney Bennet é uma "séria" atriz da Broadway que faz seu primeiro papel na TV, ao precisar de dinheiro. Hunter Fallow é a musa da série que vê Courtney assumir seu papel de estrela.
O elenco coadjuvante é formando pelo jovem Quentin King e seu secreto implante de cabelo; e Marcy Sternfeld, que está na série devido aos seus "contatos" na emissora e sua neurótica negação do fato.
CURIOSIDADES

A personagem de Lindsay Sloane foi recriada após Aaron Spelling, um dos produtores da série, queixar-se que ela era muito parecida com sua filha, Tori Spelling. O cabelo da personagem foi digitalmente recolorido e mudaram os ângulos das imagens.
ELENCO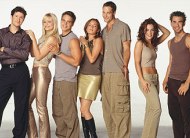 Al Santos
(Johnny Bishop/Brad Johnson)

Lindsay Sloane
(Marcy Sternfeld/Kim Peterson)

Bonnie Somerville
(Courtney Scott/Laura Johnson)

Kohl Sudduth
(Quentin King/Stone Anders)

Irene Molloy
(Hunter Fallow/Becky Johnson)

Kyle Howard
(Dave May)

Nat Faxon
(Kevin "The P.A.")

William Ragsdale
(Rob Fields)

Joely Fisher
(Hope Lustig)

Michael Hitchcock
(Richard Towers)
MÚSICA DE ABERTURA

"
Sex Bomb
", de Tom Jones
Audio clip: Adobe Flash Player (version 9 or above) is required to play this audio clip. Download the latest version here. You also need to have JavaScript enabled in your browser.
Sexbomb, sexbomb, you're my sexbomb
And baby you can turn me on
No, don't get me wrong ain't gonna do you no harm (no)
This bomb's for lovin' and you can shoot it far
I'm your main target come and help me ignite (ow)
Love struck holding you tight (hold me tight darlin')
Sexbomb, sexbomb, you're my sexbomb
NO BRASIL

* Aqui estão listadas as emissoras que já exibiram o seriado no Brasil, o que não significa que, atualmente, estes canais estejam transmitindo o programa. Para mais informações clique no canal desejado e consulte o guia de programação.
VÍDEO ABERTURA