SINOPSE
"Glee" narra a trajetória de um professor otimista, Will Schuester, que — contra todas as desvantagens e uma treinadora das cheerleaders maliciosa — tenta salvar o "Glee", o coral da escola McKinley, da obscuridade, enquanto ajuda um grupo de alunos rejeitados a encontrar o verdadeiro potencial de estrela deles.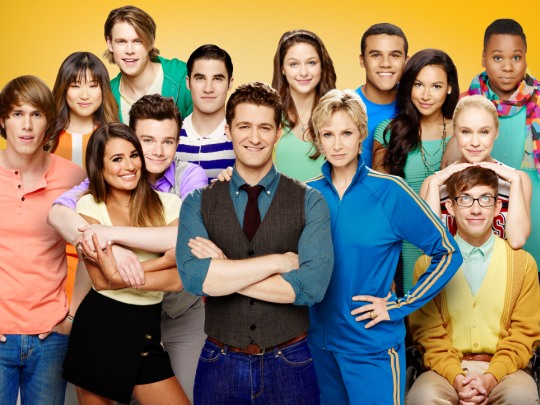 É uma tarefa difícil quando as estrelas mais brilhantes do grupo incluem Kurt, um aluno gay que atinge uma nota alta no seu estilo fashion; Mercedes, uma verdadeira diva com uma voz incrível; Artie, um guitarrista nerd rock n'roll que dança em sua cadeira de rodas; e Tina, uma aluna punk que esconde sua suposta gagueira entre suas extensões de cabelo azuis.
As esperanças de Will estão depositadas, especialmente, em dois verdadeiros talentos: Rachel Berry, uma autoproclamada estrela que está convencida de que uma página no MySpace e um grupo de fãs são o seu passaporte para a fama; e Finn Hudson, o zagueiro popular do time de futebol americano da escola com um visual de astro de cinema que terá que proteger sua reputação de sua namorada convencida e líder do grupo de torcida, Quinn, e de seu colega de time arrogante, Puck.
Will está determinado a fazer o que for preciso para tornar o Glee novamente famoso, mas sua única aliada é a professora Emma Pillsbury, que tem fobia de germes. Todos os demais acreditam que ele é louco — desde sua esposa determinada, Terri Schuester até a manipuladora treinadora das líderes de torcida, Sue Sylverster — mas ele está decidido a provar que eles estão errados.
A série, no entanto, ganha seu maior destaque com os números musicais dançantes que incluem músicas de diversos artistas consagrados, como Queen, Bon Jovi, Kelly Clarkson, Amy Winehouse, etc.
CURIOSIDADES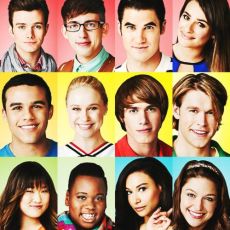 O ator Cory Monteith
faleceu em julho de 2013
, após seu envolvimento com narcóticos. Monteith, que dava vida ao personagem de Finn Hudson, esteve presente até o final da 4ª temporada, tendo sido homenageado no 3º episódio do 5º ano.

Lea Michele, quando fez seu teste para o seriado, havia acabado de se envolver em um acidente de carro e entrou no estúdio ainda tirando cacos de vidro de seu cabelo. De acordo com Ryan Murphy, o papel de Rachel foi escrito especialmente para Michele.

Nos primeiros 13 episódios do programa, foram usadas 70 músicas.

Várias vezes, durante as gravações, os produtores paravam as filmagens para pedir que Kevin McHale não batesse seus pés enquanto cantavam as músicas do episódio.

O papel de Quinn Fabray ficou sem uma atriz até a noite anterior às filmagens do primeiro episódio, até que Dianna Agron foi chamada para integrar o elenco. O nome original da personagem era Liz Fabray.

Chris Colfer fez os testes para o papel de Artie. Após a realização do teste, os produtores criaram o personagem Kurt Hummel especialmente para Colfer. Por conta de suas bochechas rosadas, os produtores escolheram o sobrenome Hummel dado aos anjos querubins ("Hummel figurines", clique para ver).

Apesar de ser o professor da série, Matthew Morrison é apenas quatro anos mais velho do que Cory Monteith, Mark Salling e Harry Shum Jr.

Heather Morris foi contratada para o papel de Brittany S. Pearce após ter sido chamada para coreografar o elenco para a música Single Ladies, de Beyoncé. Morris foi uma das dançarinas da turnê de Beyoncé.

Todas as músicas são cantadas pelos próprios atores.

No projeto original, um dos participantes do coral era para ser um garoto indiano. Após o teste de Chris Colfer, com a criação do personagem de Kurt, os produtores resolveram transformar o diretor Figgins, que originalmente era branco, em um personagem indiano. O ator Iqbal Theba nasceu em Karachi, no Paquistão.

Apesar de ter ficado de fora de três episódios do programa, Lea Michele ainda é a atriz que mais apareceu em episódios de "Glee".

O personagem da treinadora Shannon Beiste foi criado especialmente para a atriz Dot-Marie Jones, logo depois de Ryan Murphy ter trabalhado com ela no piloto de "Pretty/Handsome".

A primeira temporada do reality show "The Glee Project" foi a responsável pelos personagens Joe Hart (Samuel Larsen), Rory Flanagan (Damian McGinty), Wade "Unique" Adams (Alex Newell), e Harmony (Lindsay Pearce). Samuel Larsen e Damian McGinty foram os vencedores do reality em sua primeira temporada, tendo Alex Newell e Lindsay Pearce como segundos colocados. O prêmio do programa era participações especiais em "Glee". Samuel Larsen participou de 14 episódios de "Glee", Damian McGinty esteve presente em 18, Lindsay Pearce participou de dois capítulos e Alex Newell permaneceu no programa por 43 episódios (alguns ele apareceu apenas nos créditos).

Ryder Lynn (Blake Jenner) e Betty Pillsbury (Ali Stroker) foram personagens criados a partir da segunda temporada de "The Glee Project". Blake foi o vencedor e Ali levou o segundo lugar. Ali Stroker participou de somente um episódio, ao passo que Blake Jenner ficou no programa durante 39 episódios (alguns ele apareceu apenas nos créditos).
ELENCO

Chris Colfer
(Kurt Hummel)

Jane Lynch
(Sue Sylvester)

Kevin McHale
(Artie Abrams)

Lea Michele
(Rachel Berry)

Matthew Morrison
(Will Schuester)

Naya Rivera
(Santana Lopez)

Jenna Ushkowitz
(Tina Cohen-Chang)

Amber Riley
(Mercedes Jones)

Mark Salling
(Noah "Puck" Puckerman)

Heather Morris
(Brittany S. Pearce)

Cory Monteith
(Finn Hudson)

Harry Shum Jr.
(Mike Chang)

Chord Overstreet
(Sam Evans)

Darren Criss
(Blaine Anderson)

Jayma Mays
(Emma Pillsbury)

Dianna Agron
(Quinn Fabray)

Iqbal Theba
(Diretor Figgins)

Lauren Potter
(Becky Jackson)

Alex Newell
(Wade "Unique" Adams)
MÚSICA DE ABERTURA

"
Don't Stop Believin'
", do elenco de "Glee"
Audio clip: Adobe Flash Player (version 9 or above) is required to play this audio clip. Download the latest version here. You also need to have JavaScript enabled in your browser.
Just a small town girl, livin' in a lonely world
She took the midnight train goin' anywhere
Just a city boy, born and raised in South Detroit
He took the midnight train goin' anywhere
A singer in a smoky room
The smell of wine and cheap perfume
For a smile they can share the night
It goes on and on and on and on
Strangers waiting, up and down the boulevard
Their shadows searching in the night
Streetlights, people, living just to find emotion
Hiding, somewhere in the nights
Working hard to get my fill
Everybody wants a thrill
Payin' anything to roll the dice
Just one more time
Some will win
Some will lose
Some are born to sing the blues
And now the movie never ends
It goes on and on and on and on
Strangers waiting
Up and down the boulevard
Their shadows searching in the night
Streetlights, people, living just to find emotion
Hiding, somewhere in the nights
Don't stop believin'
Hold on to that feelin'
Streetlight, people
Don't stop believin'
Hold on to that feelin'
Streetlight, people
Don't stop
NO BRASIL


* Aqui estão listadas as emissoras que já exibiram o seriado no Brasil, o que não significa que, atualmente, estes canais estejam transmitindo o programa. Para mais informações clique no canal desejado e consulte o guia de programação.
SPIN-OFF

"The Glee Project" (em breve)