Quase prestes a concluir seu upfront, a FOX americana anunciou a renovação de duas séries, porém, também oficializou o fim de duas atrações de sua grade de programação.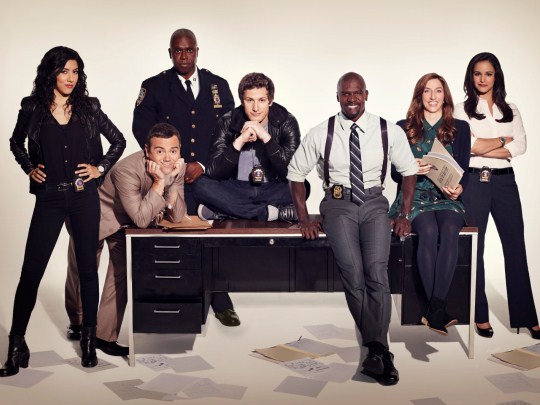 A veterana "Brooklyn Nine-Nine", protagonizada por Andy Samberg, retorna para uma 5ª temporada, de 22 (ou 23) episódios, ainda em 2017. O 4º ano da série, ainda em exibição dos Estados Unidos, termina no próximo dia 23 de maio, com um episódio duplo.
Outro programa agraciado com ares de renovação foi a novata "The Exorcist". Ainda não havia nada concreto sobre o futuro da série, protagonizada por Alfonso Herrera (também em "Sense8"), já que a primeira temporada terminou em dezembro de 2016, com uma média de 1,9 milhão de telespectadores. Agora, com um 2º ano garantido, o padre Tomas Ortega pode esperar novos exorcismos pela frente.
Por fim, a FOX cancelou duas comédias novatas: "Making History", estrelada por Adam Pally ("The Mindy Project"), cuja vida foi curta, de somente 9 episódios. E "Son of Zorn", que é parcialmente animada, começou com excelentes 6 milhões de espectadores por episódio, mas caiu rapidamente no esquecimento, alcançando meros 1,5 milhão por capítulo.
Até o momento, estão renovadas "American Grit", "Bob's Burgers", "Brooklyn Nine-Nine", "The Exorcist", "Empire", "Gotham", "The Last Man on Earth", "Lethal Weapon", "Lucifer", "The Mick", "The Simpsons", "Star" e "The X-Files". Falta definição do futuro de "24: Legacy", "Family Guy", "Hell's Kitchen", "New Girl", "Prison Break", "Scream Queens", "Shots Fired" e "Wayward Pines".
As canceladas, por enquanto, são "APB", "Bones", "Making History", "Pitch", "Rosewood", "Sleepy Hollow" e "Son of Zorn".

Receba nossas publicações por e-mail:

DEIXE SEU COMENTÁRIO (VIA FACEBOOK)
Não tem Facebook? Use o formulário abaixo:
Quer ter sua foto ao lado do comentário? Cadastre-se no Gravatar!
ATENÇÃO:
Toda e qualquer mensagem publicada através do sistema de comentários não reflete a opinião deste site ou de seus autores. As opiniões enviadas através deste sistema são de exclusiva e integral responsabilidade dos visitantes que dele fizerem uso.