A FOX deu mais uma chance para a comédia "New Girl". A série, protagonizada por Zooey Deschanel, retorna para uma 7ª temporada.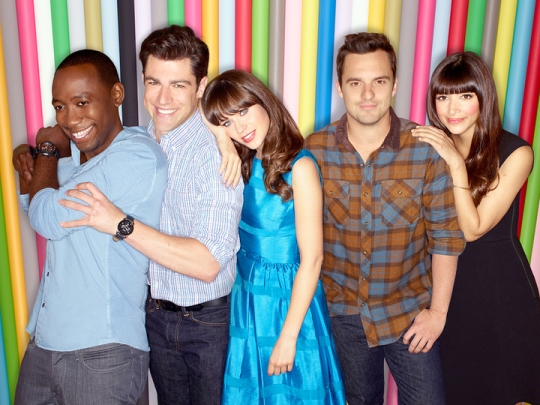 No entanto, o programa não terá uma temporada convencional, de 22 episódios. A emissora preferiu renovar a atração por somente 8 episódios, para proporcionar aos fãs um final decente para a trama de Jess. O anúncio foi feito pelo ator Jake M. Johnson, que interpreta Nick na série.
#NewGirl has been picked up for 8 final episodes! Very excited to be able to finish what we started. Also Happy Mother's Day, ladies.

— jake johnson (@MrJakeJohnson) 14 de maio de 2017
Quando estreou, em 2011, "New Girl" alcançou excelentes números na audiência, chegando a 10,3 milhões de telespectadores por episódio, algo conseguido pela FOX somente com a sitcom "The Bernie Mac Show", lançada em 2001. Ao longo das temporadas, até a sexta, a atração vem amargando 2,7 milhões em sua média.
Agora, estão renovados os seriados "American Grit", "Bob's Burgers", "Brooklyn Nine-Nine", "The Exorcist", "Empire", "Gotham", "The Last Man on Earth", "Lethal Weapon", "Lucifer", "The Mick", "New Girl", "The Simpsons", "Star" e "The X-Files". Falta definição do futuro de "24: Legacy", "Family Guy", "Hell's Kitchen", "Prison Break", "Scream Queens", "Shots Fired" e "Wayward Pines".
As canceladas, por enquanto, são "APB", "Bones", "Making History", "Pitch", "Rosewood", "Sleepy Hollow" e "Son of Zorn".

Receba nossas publicações por e-mail:

DEIXE SEU COMENTÁRIO (VIA FACEBOOK)
Não tem Facebook? Use o formulário abaixo:
Quer ter sua foto ao lado do comentário? Cadastre-se no Gravatar!
ATENÇÃO:
Toda e qualquer mensagem publicada através do sistema de comentários não reflete a opinião deste site ou de seus autores. As opiniões enviadas através deste sistema são de exclusiva e integral responsabilidade dos visitantes que dele fizerem uso.