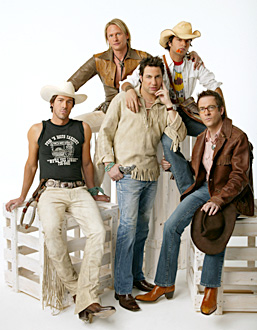 "Queer Eye For The Straight Guy", que fez sucesso no Sony Entertainment Television, a partir de agosto passa a fazer parte da grade de programação da FOX Life, o canal "feminino" do grupo FOX.
O reality show, que mostra cinco especialistas gays ajudando heterossexuais bagunceiros a mudar seu estilo de vida, será exibido nas noites de sábado e de domingo do canal, sempre às 19h.
"Queer Eye For The Straight Guy" foi um dos grandes sucessos da TV americana em 2003, mas perdeu o fôlego a partir da segunda temporada e acabou cancelada. No Brasil, chegou a ser disputado entre diversos canais — acabou sendo comprado pelo Sony, onde estreou em novembro de 2003.
O reality foi cancelado em outubro do ano passado, no final da 5ª temporada, quando completou 100 episódios.
A estreia na FOX Life acontece no próximo sábado, dia 02 de agosto. Uma das curiosidades deste episódio é ver que o especialista em cultura não é Jai Rodriguez — o piloto foi gravado Blair Boone, que foi dispensado logo depois pelos produtores.

Receba nossas publicações por e-mail:

DEIXE SEU COMENTÁRIO (VIA FACEBOOK)
Não tem Facebook? Use o formulário abaixo:
Quer ter sua foto ao lado do comentário? Cadastre-se no Gravatar!
ATENÇÃO:
Toda e qualquer mensagem publicada através do sistema de comentários não reflete a opinião deste site ou de seus autores. As opiniões enviadas através deste sistema são de exclusiva e integral responsabilidade dos visitantes que dele fizerem uso.