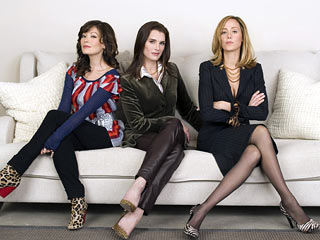 A Fox vai trazer ao Brasil, no dia 12 de agosto, a série "Lipstick Jungle". A atração seria apenas mais uma série, se não levasse a assinatura de Candace Bushnell, a autora da consagrada "Sex & The City". Ela lidera a equipe de roteiristas e mostra, mais uma vez, a Nova York de Carrie, Samantha, Charlotte e Miranda. A diferença é que, desta vez, as mulheres são três - e muito mais poderosas profissionalmente do que o quarteto de "Sex & The City".
A 1ª temporada de "Lipstick Jungle", que nos Estados Unidos estreou no dia 07 de fevereiro deste ano, teve sete episódios e, na terra do Tio Sam, não causou muita comoção. Mesmo assim, a série foi renovada, tirando a rival "Cashmere Mafia" de cena.
"Cashmere Mafia", programa que também acompanhava a vida de três executivas em Nova York, foi cancelada e a estrela Lucy Liu migrou para "Dirty Sexy Money".
"Lipstick Jungle" tem Brooke Shields ("Suddenly Susan") como protagonista e conta com Kim Raver ("24 Horas", "The Nine") e Lindsay Price ("Coupling US", "Beverly Hills, 90210") no elenco. As três ainda não se tornaram o fenômeno Sarah Jessica Parker, que, após os 12 episódios da temporada de estréia de "Sex & The City" (em 1998), já era o ícone fashion da série cult. De qualquer forma, vale a pena ver se "Lipstick" vai, ou não, lançar moda.

Receba nossas publicações por e-mail:

DEIXE SEU COMENTÁRIO (VIA FACEBOOK)
Não tem Facebook? Use o formulário abaixo:
Quer ter sua foto ao lado do comentário? Cadastre-se no Gravatar!
ATENÇÃO:
Toda e qualquer mensagem publicada através do sistema de comentários não reflete a opinião deste site ou de seus autores. As opiniões enviadas através deste sistema são de exclusiva e integral responsabilidade dos visitantes que dele fizerem uso.