» Segundo boatos da imprensa americana, o casamento dos atores Courteney Cox e David Arquette está passando novamente por uma séria crise, e estaria à beira do colapso. Os dois estão há nove anos juntos e têm a filha Coco, de somente quatro aninhos. Tudo indica que os problemas para Cox voltar a engravidar são o principal motivo da crise entre eles. De acordo com a revista Star, uma fonte contou que a ex-protagonista de "Dirt" já renunciou ao sonho de ter um segundo filho pois, antes de engravidar de Coco, sofreu muito com o tratamento de fertilidade e não quer passar por isso outra vez, além de não querer adotar uma criança. A publicação revela ainda que, enquanto a ex-atriz de "Friends" luta para salvar seu matrimônio, Arquette está mais interessado em sair com seus amigos. Onde estarão os outros cinco "Friends" para ajudar a amiga?
» Ainda falando de tragédias, quando foi chamado para atuar na nova temporada do seriado "Desperate Housewives", Gale Harold, o eterno Brian Kinney de "Queer as Folk", que interpreta Jackson, o novo namorado de Susan Mayer (Teri Hatcher), o ator ficou super contente: "Eu adorava o programa e nunca perdi um capítulo. O convite veio como um presente", comentou. Mas agora, infelizmente, ele espera resposta se a lesão que sofreu ao se envolver, na semana passada, em um acidente de moto, será incluída na série ou não. Gale, atualmente com 39 anos, foi levado ao centro médico USC Medical Center, onde recebeu tratamento na unidade de cuidados intensivos. Além de ter quebrado a clavícula, teve que ficar vários dias em observação, para que os médicos pudessem avaliar outras lesões. Mas o ator passa bem.
» Nasceu o segundo filho de Gillian Anderson e seu companheiro Mark Griffiths, segundo informou à imprensa o representante da atriz da extinta série "Arquivo X". De acordo com informações da revista People, Felix Griffiths nasceu na última quarta-feira, dia 15 de outubro, em Londres, pesando 2,8 kg. Felix é o terceiro filho de Anderson. Ela tem uma filha de 13 anos, de seu casamento com o diretor de arte Clyde Klotz, e Oscar, um ano, filho de Mark.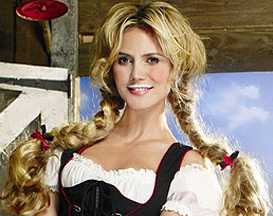 » Assim, todo mundo vai querer beber leite! Vestida como uma sexy fazendeira alemã, a top model Heidi Klum, apresentadora do reality show "Project Runway", aparece com bigodinho de leite ao lado de uma vaca, em um ambiente bastante bucólico, para a campanha norte-americana "Got Milk?", criada para incentivar o consumo do produto no país. A peça publicitária, idealizada para a mídia impressa, exalta os nutrientes do leite, com o objetivo de fazer homens e mulheres consumirem mais a bebida. Outras celebridades já posaram com o famoso bigodinho branco, da campanha "Got Milk?". Entre elas estão Brooke Shields ("Lipstick Jungle"), Rihanna, Beyoncé e até o Batman.
» Lindsay Lohan, que terminou suas gravações em "Ugly Betty", parece estar rondando os estúdios de outra série. A polêmica atriz e cantora - namorada da DJ inglesa Samantha Ronson - estaria correndo atrás de Chace Crawford, o Nate de "Gossip Girl". Segundo informou o blog I'm Not Obsessed, durante uma festa em Nova York, quando os dois se conheceram, a atriz deu em cima do ator, ficando sempre perto demais dele e conversando ao pé do ouvido. Os dois trocaram telefone. "Todo mundo no set da série está em cima dele porque Lindsay tem ligado para ele de três a quatro vezes durante o dia, além de mandar mensagens provocativas. Apesar de não aparentar ter alguma intenção amorosa com ele, todo mundo acha que Sam vai enlouquecer quando descobrir", disse uma fonte.
» O FBI conseguiu cercar o hacker responsável pela divulgação de fotos sensuais de Miley Cyrus, de 15 anos, estrela da série teen "Hannah Montana". A polícia americana confiscou aparelhos eletrônicos de Josh Holly, de 19 anos, que se gabava de ser imune a punição. Três computadores e o celular do hacker serão usados como prova no processo contra ele. Holly invadiu o e-mail pessoal de Miley, onde teve acesso a fotos que a cantora havia mandado para o ex-namorado, Nick Jonas, do grupo Jonas Brothers. Depois de tentar, sem sucesso, vender as imagens para sites e revistas americanos, o hacker acabou postando as imagens na internet.
» Deixando as fofocas de lado, boas notícias para os fãs de "Terminator: The Sarah Connor Chronicles", "Private Practice" e "Knight Rider" (esta ainda inédita no Brasil). As séries conseguiram o pedido de uma temporada completa, com 22 episódios. A série "Knight Rider" foi adquirida pela Warner Channel, e só a exibirá em meados de 2009. Já "Terminator" estréia a 2ª temporada, também na Warner Channel, no dia 04 de novembro, às 22h, enquanto "Private Practice" tem sua estréia no canal Sony (com um ano de atraso em relação aos Estados Unidos) no dia 03 de novembro, às 20h. Além disso, "Privileged" conseguiu encomenda de mais dois roteiros para o CW. Será que vai?

Assunto(s):
Audiência EUA
,
Escândalos
,
LGBT
,
Participações

Seriado(s) relacionado(s):
Arquivo X
,
Desperate Housewives
,
Dirt
,
Friends
,
Gossip Girl
,
Hannah Montana
,
Knight Rider
,
Lipstick Jungle
,
Private Practice
,
Privileged
,
Project Runway
,
Queer as Folk
,
Suddenly Susan
,
Terminator: The Sarah Connor Chronicles
,
Ugly Betty

Receba nossas publicações por e-mail:

DEIXE SEU COMENTÁRIO (VIA FACEBOOK)
Não tem Facebook? Use o formulário abaixo:
Quer ter sua foto ao lado do comentário? Cadastre-se no Gravatar!
ATENÇÃO:
Toda e qualquer mensagem publicada através do sistema de comentários não reflete a opinião deste site ou de seus autores. As opiniões enviadas através deste sistema são de exclusiva e integral responsabilidade dos visitantes que dele fizerem uso.