SINOPSE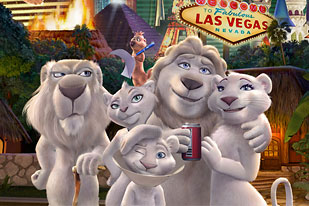 "Father of The Pride" é uma série de animação computadorizada que usa o humor contemporâneo para mostrar o dia-a-dia dos animais que se apresentam ao lado dos lendários Siegfried & Roy em seus espetáculos em Las Vegas.
Os principais personagens da série fazem parte da família liderada por Larry, um leão trabalhador que não se deslumbra com o mundo do show business. Após se apaixonar e se casar com a bela leoa Kate, Larry tem que enfrentar a provocação diária de seu sogro, o lendário Sarmoti, um velho ex-astro dos espetáculos que foi descoberto na África por Siegfried e Roy.
Larry também tem que lidar com sua rebelde filha adolescente Sierra, de 15 anos, e seu desajeitado filho de 9 anos Hunter. Outros personagens incluem os tigres brancos Blake e Victoria, o esquilo Snack e as versões computadorizadas de Siegfried e Roy.
ELENCO

John Goodman
(Larry — voz)

Cheryl Hines
(Kate — voz)

Orlando Jones
(Snack — voz)

Carl Reiner
(Sarmoti — voz)

Danielle Harris
(Sierra — voz)

David Herman
(Roy — voz)

Julian Holloway
(Siegfried — voz)

Daryl Sabara
(Hunter — voz)

Brian George
(Chutney — voz)
MÚSICA DE ABERTURA

"
Viva Las Vegas
", de John Goodman
Audio clip: Adobe Flash Player (version 9 or above) is required to play this audio clip. Download the latest version here. You also need to have JavaScript enabled in your browser.