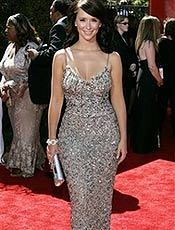 O Sony Entertainment Television, ultimamente, tem saído com umas quotes um tanto quanto depreciativas. A última foi durante uma promoção da terceira temporada de "Ghost Whisperer", ao dizer que a nova temporada da série está assustadora, com novos espíritos de dar medo, mas que a atuação de Jennifer Love Hewitt não convence.
Pode ter sido apenas um simples comercial sobre a série, já que talvez eles não encontraram nada melhor pra dizer, não conseguiram argumentos para promover a série de uma forma mais interessante e verdadeira, mas eu confesso que, como um super fã da atriz, desde quando ela entrou tímida no elenco de "Party of Five" e, posteriormente ganhou seu spin-off "Time of Your Life", eu preciso entrar nessa briga. Como que uma atriz cujo personagem rendeu uma série própria pode ser ruim? Como que uma atriz que (abre aspas) me fez chorar em "Antes Que Termine o Dia" (fecha aspas) e ganhou o papel principal no filme "The Audrey Hepburn Story" pode não ser convincente?
Será que "Ghost Whisperer", série que entrou em sua 3ª temporada e mantém o sucesso incial, série que vai ao ar num dos piores lugares do horário nobre da TV americana (sextas às 20h), não merece crédito pela atuação da atriz principal e por manter a qualidade e audiência num horário tão recalcado? Será que, talvez, remotamente, no lugar de Jennifer, fosse a atriz Rose McGowan, a série teria dado certo? O que muitos nem sequer sonham, é que inicialmente Rose foi a mais cogitada para o papel, mas na época, terminando a carreira de Paige Matthews, ela ficaria um tanto quanto "vinculada" na personagem de "Charmed".
Então deixo a dúvida pra vocês: Jennifer Love Hewitt, a adolescente de "Party of Five" que seguiu "carreira solo" em "Time of Your Life" e conquistou o público com vários papéis marcantes no cinema ou Rose McGowan, a bruxa bastarda de "Charmed", com uma carreira inexistente no cinema e um passado sombrio com Marylin Manson?

Receba nossas publicações por e-mail:

DEIXE SEU COMENTÁRIO (VIA FACEBOOK)
Não tem Facebook? Use o formulário abaixo:
Quer ter sua foto ao lado do comentário? Cadastre-se no Gravatar!
ATENÇÃO:
Toda e qualquer mensagem publicada através do sistema de comentários não reflete a opinião deste site ou de seus autores. As opiniões enviadas através deste sistema são de exclusiva e integral responsabilidade dos visitantes que dele fizerem uso.