Depois de várias mudanças na grade de programação, a inclusão de filmes no horário nobre, o canal Sony traz novidades para o mês de abril. Serão 7 novidades, entre elas estão a volta de quatro temporadas, a estréia de dois programas e a reprise de uma série que deixou saudades.
A primeira delas é "Lil' Bush", que retorna com 10 novos episódios no dia 07 de abril, à 01h30 da madrugada. A animação, que foca na infância de George W. Bush, o 43º presidente americano, mostra o pequeno Bush fazendo novas amizades (o jovem Tony Blair) e criando novos inimigos na Casa Branca, onde também veremos as versões menores de vários nomes conhecidos da política americana como Condoleezza Rice e do ex-vice-presidente Dick Cheney. Criada por um dos roteiristas de "Os Simpsons" e "Just Shoot Me", a 2ª temporada de "Lil' Bush" terminou em 15 de maio de 2008, no entanto, o futuro da série ainda não foi decidido.
A segunda delas chega no dia 10 de abril, às 21h. Trata-se da 3ª temporada de "Friday Night Lights". O novo ano traz muitas novidades. O treinador Eric Taylor (Kyle Chandler) enfrenta as pressões e interferências no time dos Phanters quando uma influente família, os McCoys, tentam garantir que seu filho, um zagueiro em ascensão, faça parte do time principal. Já a esposa do treinador, Tami (Connie Britton) terá novos desafios ao se tornar a diretora da escola, onde terá que lidar com o orçamento apertado e a falta de material escolar.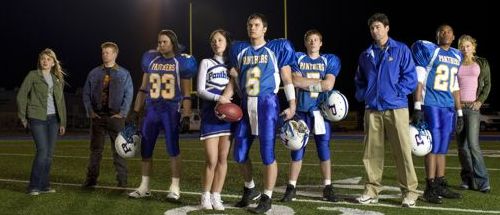 Com 13 episódios, a 3ª temporada de "Friday Night Lights" foi exibido entre 1º de outubro de 2008 e 14 de janeiro de 2009 com exclusividade pela DirecTV nos Estados Unidos. Como parte do acordo que garantiu a renovação da série, o canal NBC começou a exibir os novos episódios da série apenas no início deste ano.
A 3ª novidade é que, no sábado, dia 11 de abril, às 14h, o reality show "America's Got Talent" retorna para sua 2ª temporada com um episódio especial com duas horas de duração. O programa que procura a pessoa mais talentosa dos Estados Unidos, passa a ser apresentado por Jerry Springer, enquanto Sharon Osbourne ("The Osbournes") substituiu a cantora Brandy no júri, ao lado do ator David Hasselhoff ("Baywatch") e do jornalista Piers Morgan.
A 4ª, 5ª e 6ª novidade é que, a partir do dia 11 de abril, o Sony passa a ter mais atrações musicais. Às 20h estreia a nova temporada de "Live From Abbey Road", originalmente prevista para janeiro. Os novos episódios do programa terão as performances de estrelas como Mary J. Blige, James Blunt, Matchbox Twenty, Def Leppard, Panic at the Disco!, Sheryl Crow, Diana Krall, Colbie Caillat, Manu Chao, Alanis Morrisette, Gnarls Barkley, Ben Harper e Bryan Adams.
Na sequência, às 21h, é a vez de "Sesiones con Alejandro Franco", que vai mostrar apresentações ao vivo e entrevistas com os mais variados artistas. Apresentado pelo mexicano Alejandro Franco, o programa já chega em seu 3º ano. Katy Perry e Damien Rice são alguns dos astros a passarem pelo programa.
E, fechando o bloco musical, teremos "Rock Road", às 22h. Apresentado por Zeta Bosio, mais conhecido pelos vocais da banda argentina Soda Stereo, o programa de meia hora mostrará os bastidores dos festivais de rock mais importantes do mundo. O programa chega por aqui já em sua 4ª temporada, com shows e entrevistas de Lily Allen, Metallica, My Chemical Romance, Pearl Jam e The Killers.
E a última novidade é para quem tem saudades. Em abril, o canal Sony volta a reprisar a série "American Dreams", todos sábados, em três horários (07h, 12h e 17h). O seriado, que foi exibido entre 2003 e 2005, é um drama ambientado nos anos 60 que mostra as diferenças culturais, a revolução musical e a Guerra do Vietnã. Saiba mais sobre a série aqui.

Receba nossas publicações por e-mail:

DEIXE SEU COMENTÁRIO (VIA FACEBOOK)
Não tem Facebook? Use o formulário abaixo:
Quer ter sua foto ao lado do comentário? Cadastre-se no Gravatar!
ATENÇÃO:
Toda e qualquer mensagem publicada através do sistema de comentários não reflete a opinião deste site ou de seus autores. As opiniões enviadas através deste sistema são de exclusiva e integral responsabilidade dos visitantes que dele fizerem uso.