Em um especial "Dia dos Namorados", vou falar um pouco de episódios que marcaram essa data, mencionando aqueles de algumas séries que eu simplesmente adoro e deixaram saudades...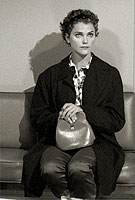 "Felicity":
A vida de Felicity, desde o começo da série, foi problemática. Sua obsessão por Ben e seu amor por Noel a impediam de raciocinar. Nessa época, suas amigas não eram as melhores (como foram ficando ao longo da série) e, por isso, a pobre Felicity bateu muito a cabeça. Em Help For The Lovelorn, um episódio em preto e branco da segunda temporada, vemos uma situação atípica na vida dela: uma luta com o seu inconsciente. A interpretação desse episódio pode ser diferente para cada um, mas eu vejo exatamente isso: Felicity lutando para buscar uma resposta, que no final da série veio novamente: Ben ou Noel?
O episódio começa com Felicity em seu quarto, com uma inexplicável depressão. Quando ela chega ao Dean & Deluca, Ben já está trabalhando e Noel chega para tomar um café. Fica claro que Felicity está pensando em seu passado e sentindo-se sozinha e abandonada. Uma estranha cliente reconhece os "sintomas" de Felicity e lhe entrega um cartão de um local conhecido como "A Clínica", que promete "curar o que é incurável".
Buscando acabar com seu sofrimento, Felicity vai até a clínica para receber um tratamento um pouco invasivo. Os médicos tiram sangue dela sem sequer pedir permissão e, mais tarde, ela recebe um coração de vidro, juntamente com uma ligação pedindo que ela retorne ao consultório médico. Felicity busca entender o que está acontecendo, acreditando que as coisas possam ter a ver com um estranho líquido que ela bebeu, trazido por uma enfermeira.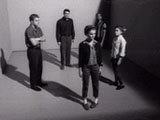 O episódio inteiro segue essa linha bizarra, inclusive no final, quando Felicity, Ben, Noel, Julie e Elena se veem dentro de uma caixa: a temida caixa secreta de Meghan. Quem acompanhou pelo menos a primeira temporada da série sabe exatamente que Felicity (e nós, telespectadores) morria de curiosidade em saber o que sua colega de quarto guardava naquela caixa sinistra.
A conclusão, quando Felicity tenta escapar da caixa e vemos Meghan pegando Felicity e colocando ela de volta na caixa, é que a garota estava presa em suas próprias emoções, não sabendo o caminho que deveria seguir: continuar esperançosamente apaixonada por Ben ou ser feliz ao lado de Noel que, ao meu ver, sempre foi o par pefeito para ela?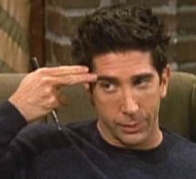 "Friends":
Claro, não poderia deixar de fora o fantástico The One With Unagi. Enquanto Phoebe e Rachel têm aulas de defesa pessoal, Ross tenta explicar que, para isso, elas precisam ter "Unagi", algo como um auto-controle sobre suas emoções. Ao passo que as duas tiram uma com a cara do amigo, afirmando que "Unagi" é um tipo de sushi, Ross segue firme tentando provar que elas não têm "Unagi".
Joey, por sua vez, precisa encontrar, a qualquer custo, um irmão gêmeo. Caso contrário, ele perderá a oportunidade de participar de um experimento médico que lhe dará algum dinheiro, o qual ele precisa para renovar o seu book. Essa busca rende boas risadas, especialmente quando Joey contrata um rapaz e decide treiná-lo a ser seu irmão gêmeo.
Chandler e Monica decidem que seus presentes de Dia dos Namorados devem ser feitos manualmente. Chandler enlouquece enquanto tenta "fabricar" algo para sua namorada. Ele recorre aos coelhinhos de meia de Phoebe, mas acaba tendo outra ideia quando encontra, em seu armário, uma velha fita gravada. Chandler decide dar a fita para Monica, alegando que ali existem várias músicas especiais. Monica dá para o namorado um coelhinho de meia feito por Phoebe, mas quando recebe o presente de Chandler, ela se emociona e decide que vai cozinhar o que ele quiser na cozinha e fazer o que ele quiser no quarto.
Chandler se dá mal quando, no final da fita, Monica descobre uma gravação de Janice, quem realmente tinha gravado a fita. Chandler e Monica brigam, porém, o amor que eles sentem é maior e tudo se resolve. No final, Ross se dá mal quando ataca duas estranhas, achando que eram Phoebe e Rachel. A cena em que Ross é pego de surpresa, sem o "Unagi", é hilária. Veja novamente:

"That '70s Show":
Conheço poucas pessoas que gostavam de "That '70s Show". Uma série com fantásticas sacadas, atores desconhecidos (antes de Ashton Kutcher disparar no cinema) que conseguiam nos transportar para a década de 1970. O episódio é Donna's Panties e é Dia dos Namorados. A turma está jogando basquete na garagem, e Donna está ganhando de Eric. Para se vingar, Eric puxa a calça da namorada durante o jogo, e acaba revelando que ela usa ceroula. Hyde tira sarro da amiga, dizendo que ela usa "calcinha de vovó".

Fez e Caroline estão apaixonados, o que deixa Jackie irritada. Kelso decide que quer ser astronauta e Hyde, mais uma vez, brinca dizendo que se o páraquedas do amigo não abrir, ele pode usar a calcinha de Donna. Quando Eric pede desculpas, Donna acaba perdoando-o. Ele resolve cozinhar um jantar especial para ela e, durante os preparativos, Eric conta para sua mãe o que aconteceu com Donna durante o jogo e ela o deixa ainda mais nervoso sobre o assunto.

Quando leva flores para Laurie, Kelso fica arrasado quando chega no quarto da namorada e a flagra com outro homem. Mais tarde, durante o jantar romântico, Eric dá uma sexy calcinha de presente para Donna, mas ela detesta o presente. Tentando entender em que momento errou, Eric fica confuso e não sabe o que fazer para acertar as coisas.

O episódio é repleto de cenas engraçadas, a melhor delas é quando Kelso chega para presentear Laurie e começa a elogiar para Kitty, que não entende como ele consegue encontrar tantos elogios para a filha. A cena comovente acontece quando, arrasado, Kelso resolve pedir desculpas para Jackie por um dia tê-la traído. No final, Donna deixa Eric somente de cuecas e camiseta, enquanto ambos jogam basquete.

Receba nossas publicações por e-mail:

DEIXE SEU COMENTÁRIO (VIA FACEBOOK)
Não tem Facebook? Use o formulário abaixo:
Quer ter sua foto ao lado do comentário? Cadastre-se no Gravatar!
ATENÇÃO:
Toda e qualquer mensagem publicada através do sistema de comentários não reflete a opinião deste site ou de seus autores. As opiniões enviadas através deste sistema são de exclusiva e integral responsabilidade dos visitantes que dele fizerem uso.