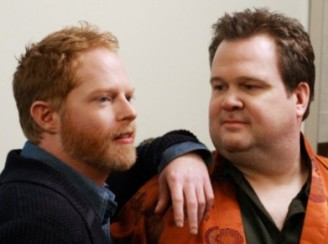 A 23ª edição do GLAAD Awards já tem datas para acontecer e anunciou os indicados deste ano. A GLAAD (Associação Contra a Difamação de Gays e Lésbicas, na sigla em inglês) é uma das principais entidades do Hemisfério Norte que luta pelos direitos LGBT.
A edição 2012 conta com 23 categorias e premia séries de TV, filmes, reality show, talk show, jornalísticos, blogs, livros e espetáculos teatrais que tenham contribuído com a imagem positiva do público arco-íris.
As cerimônias do prêmio estão marcadas paras as três capitais gays norte-americanas: 24 de março em Nova York, 21 de abril em Los Angeles e 02 de junho em São Francisco.
Veja os indicados na categoria TV:

Melhor Série Drama
• Degrassi (TeenNick)
• Grey's Anatomy (ABC)
• Pretty Little Liars (ABC Family)
• Shameless (Showtime)
• Torchwood: Miracle Day (Starz)

Melhor Série Comédia
• Exes and Ohs (Logo)
• Glee (FOX)
• Happy Endings (ABC)
• Modern Family (ABC)
• The Big C (Showtime)

Melhor Episódio (em série sem um personagem LGBT regular)
• "Acceptance" – Man Up! (ABC)
• "Beards" – Hot in Cleveland (TV Land)
• "Prom" – Drop Dead Diva (Lifetime)
• "Recruited" – NCIS (CBS)
• "The Boy Has Style" – Are We There Yet? (TBS)

Melhor Filme para TV ou Minissérie
• Cinema Verite (HBO)

Melhor Reality Show
• Dancing with the Stars (ABC)
• Girls Who Like Boys Who Like Boys (Sundance Channel)
• The Glee Project (Oxygen)
• The Real L Word (Showtime)
• The Voice (NBC)
Conheça aqui os indicados em todas as categorias. Ou assista ao vídeo, criado para promover os indicados em suas respectivas categorias:

Receba nossas publicações por e-mail:

DEIXE SEU COMENTÁRIO (VIA FACEBOOK)
Não tem Facebook? Use o formulário abaixo:
Quer ter sua foto ao lado do comentário? Cadastre-se no Gravatar!
ATENÇÃO:
Toda e qualquer mensagem publicada através do sistema de comentários não reflete a opinião deste site ou de seus autores. As opiniões enviadas através deste sistema são de exclusiva e integral responsabilidade dos visitantes que dele fizerem uso.