SINOPSE
Quando a impulsiva Phoebe volta a São Francisco, após a morte de sua avó, ela passa a morar em sua antiga casa com suas duas irmãs, Prue, a mais velha e responsável, e Piper, a irmã do meio, que é muito maleável.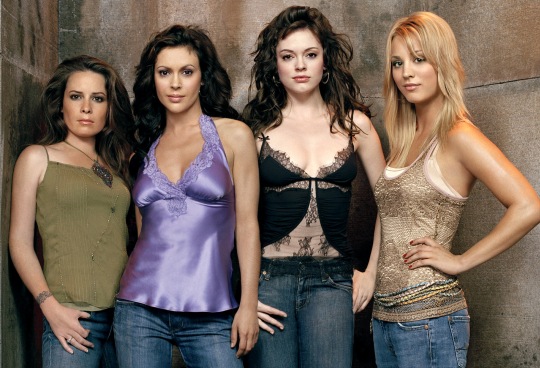 Phoebe descobre um livro de bruxarias — o "Livro das Sombras" — no sótão e, ao ler a primeira página do livro, invoca o "Poder das Três", concedendo a ela e suas irmãs poderes mágicos que haviam sido adormecidos de propósito.
Aos poucos, as irmãs vão aprendendo a utilizar seus poderes e passam a ser consideradas "As Encantadas", poderosas bruxas que estarão sempre lutando contra demônios e bruxos para proteger inocentes e impedir que seus poderes sejam roubados. Elas contam com a ajuda de Leo, um Anjo da Guarda que, mais tarde, se torna o marido de Piper.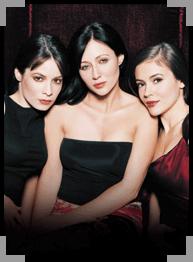 Mas as coisas mudam para as irmãs Halliwell quando Prue é morta por um demônio. Ao imaginar que o "Poder das Três" tinha acabado, descobrem que têm uma meia irmã, filha de sua mãe e do anjo Sam. Paige Matthews, a nova irmã, terá que aprender rapidamente a ser uma bruxa para poder ajudar as Halliwells na luta contra o mal e, ao mesmo tempo, aceitar e ser aceita por sua nova família.
A partir da 8ª temporada, uma nova bruxa junta-se ao mundo das Encantadas: Billie Jenkins é a nova protegida de Paige, que fica encarregada de ensinar tudo aquilo que aprendeu durante os anos como bruxa, além de orientá-la como lidar com seus novos poderes e responsabilidades.
ELENCO

Holly Marie Combs
(Piper Halliwell-Wyatt)

Alyssa Milano
(Phoebe Halliwell)

Rose McGowan
(Paige Matthews)

Brian Krause
(Leo Wyatt)

Kaley Cuoco-Sweeting
(Billie Jenkins)

Dorian Gregory
(Daryl Morris)

Drew Fuller
(Chris Halliwell-Wyatt)

Julian McMahon
(Cole Turner/Belthazar)

Shannen Doherty
(Prudence "Prue" Halliwell)

Greg Vaughan
(Dan Gordon)

Karis Paige Bryant
(Jenny Gordon)

T. W. King
(Inspetor Andrew "Andy" Trudeau)
MÚSICA DE ABERTURA

"
How Soon Is Now?
", de Love Spit Love
Audio clip: Adobe Flash Player (version 9 or above) is required to play this audio clip. Download the latest version here. You also need to have JavaScript enabled in your browser.
I am the son
I am the heir
I am human and I need to be loved
Just like everybody else does
See I've already waited too long
And all my hope is gone
NO BRASIL





* Aqui estão listadas as emissoras que já exibiram o seriado no Brasil, o que não significa que, atualmente, estes canais estejam transmitindo o programa. Para mais informações clique no canal desejado e consulte o guia de programação.
VÍDEO ABERTURA