SINOPSE
"Once upon a time, there were three little girls who went to the police academy. And they were each assigned very hazardous duties but I took them all away from all that and now they work for me. My name is Charlie".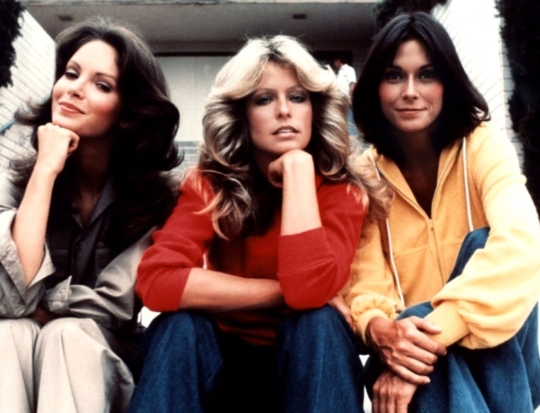 Três policiais femininas são graduadas com honra na academia de polícia e chamadas para integrar a equipe da Agência de Detetives Towsend. Investigam crimes e mistérios nos mais diversos lugares, estão sempre disfarçadas em festas, comemorações, cassinos, hotéis, procurando evidências sempre de maneira infiltrada, para não serem reconhecidas. São dinâmicas e práticas, elegantes e sabem convencer e manejar armas quando necessário.
As três são lideradas por John Bosley, parceiro e amigo das belas meninas. Eles seguem as coordenadas da próxima missão que sempre são transmitidas através de um "viva-voz", do misterioso Charlie, que comanda a agência Charles Townsend. Apesar de trabalharem para Charlie, eles nunca puderam conhecer a verdadeira identidade do chefe, conhecem apenas sua voz. Embora busquem maneiras de descobrir a verdadeira identidade de Charlie, as meninas sempre fracassam.
A série foi um marco, pois até então, as séries policiais da época eram estreladas apenas por homens. O episódio piloto, na verdade, foi um filme lançado para a TV, em 21 de março de 1976. Os episódios da série passaram a ser exibidos apenas em setembro do mesmo ano.
CURIOSIDADES

No episódio piloto parte do trio já estava escolhido. Faltava apenas a definição da atriz Kate Jackson, recém conhecida pela série "Dark Shadows", para concluir a formação das detetives. A série estreou na ABC em 22 de setembro de 1976 e logo tornou-se um sucesso.

O trio de atrizes foi modificado diversas vezes. O primeiro, composto por Farrah Fawcet, Jaclyn Smith e Kate Jackson, durou apenas a primeira temporada. A partir da segunda, Farrah foi substituída pela atriz Cheryl Ladd. Na terceira temporada, Kate Jackson abandonou a série e Shelley Hack a substituiu. Sua participação foi muito breve e Shelley saiu da série, dando lugar à Tanya Roberts. Em 1980, Farrah Fawcett retornou à série e participou dos três episódios finais da quarta temporada. Jacklyn Smith foi a única atriz a participar de toda a série.

John Forsythe, a voz de Charlie, participou de quase todos os episódios da série, ficando de fora apenas de um.

Em 2011, a série ganhou uma nova versão, que levou o mesmo nome, no entanto, durou apenas uma temporada de 8 episódios.
ELENCO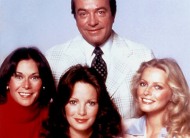 Jaclyn Smith
(Kelly Garrett)

Kate Jackson
(Sabrina Duncan)

Farrah Fawcett
(Jill Munroe)

David Doyle
(John Bosley)

Cheryl Ladd
(Kristine Munroe)

Shelley Hack
(Tiffany Welles)

Tanya Roberts
(Julie Rogers)

John Forsythe
(Charles "Charlie" Townsend)
MÚSICA DE ABERTURA

Instrumental
Audio clip: Adobe Flash Player (version 9 or above) is required to play this audio clip. Download the latest version here. You also need to have JavaScript enabled in your browser.
NO BRASIL






* Aqui estão listadas as emissoras que já exibiram o seriado no Brasil, o que não significa que, atualmente, estes canais estejam transmitindo o programa. Para mais informações clique no canal desejado e consulte o guia de programação.
VÍDEO ABERTURA