Estreia a partir do dia 31 de janeiro, no canal AXN, a série "Body of Proof". O programa retrata a vida da brilhante neurocirurgiã Dra. Megan Hunt (Dana Delany) que tinha tudo, ou assim ela pensava. Como a primeira mulher chefe do Departamento de Neurocirurgiã de importante hospital-escola da Filadélfia, ela nunca percebeu como as exigências da sua profissão estavam afetando sua vida pessoal até que seu marido pediu o divórcio e ela perdeu a custódia da filha de sete anos deles.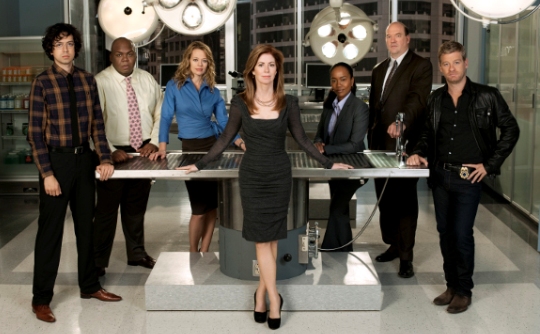 A série já foi exibida anteriormente pelo Canal Sony, que pertence ao mesmo grupo do AXN, o qual pretende reprisar todo o primeiro ano da série. No Sony, a série teve o final da 1ª temporada exibido em junho do ano passado e, até então, não se leu ou ouviu nada sobre o canal exibir a segunda temporada.
"Body of Proof" irá ao ar todas as terças, a partir das 22h, com reprise à meia-noite. Reprises também acontecerão todas as quartas-feiras, às 14h, aos sábados, às 20h e aos domingos, às 08h e às 17h.

Receba nossas publicações por e-mail:

DEIXE SEU COMENTÁRIO (VIA FACEBOOK)
Não tem Facebook? Use o formulário abaixo:
Quer ter sua foto ao lado do comentário? Cadastre-se no Gravatar!
ATENÇÃO:
Toda e qualquer mensagem publicada através do sistema de comentários não reflete a opinião deste site ou de seus autores. As opiniões enviadas através deste sistema são de exclusiva e integral responsabilidade dos visitantes que dele fizerem uso.