Os fãs de "Friday Night Lights" podem comemorar: a primeira semana de 2012 será especial no AXN. O canal estreia no dia 02 de janeiro, às 22h, a 5ª temporada do seriado e apresenta os episódios inéditos durante as primeiras semanas do mês.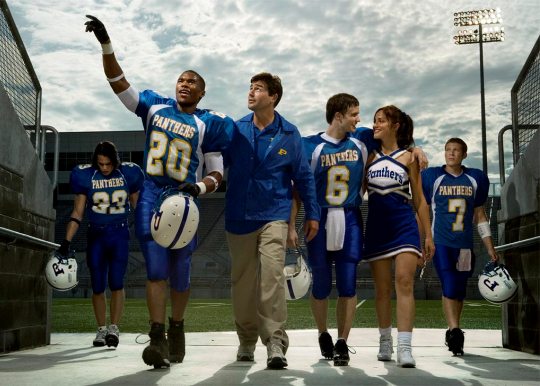 No episódio de estreia, intitulado Expectations, Eric tenta equilibrar as grandes expectativas para a nova temporada do East Dillon. Vince e Luke trabalham no recrutamento de um novo jogador para o time dos Lions e Dillon se despede de dois ex-alunos que se preparam para ir para a faculdade. A temporada continua durante as primeiras semanas do mês. O AXN exibe os episódios inéditos da série de terça a quinta-feira, sempre às 22h.
Na terça-feira o canal exibe o segundo episódio da temporada. Em On the Outside Looking In, Eric percebe que o desempenho do Lions no primeiro jogo da temporada não agradou a todos. Vince recebe benefícios inesperados por ser jogador de futebol, e a agressão de Luke em campo tem repercussões.
Na quarta-feira, dia 04 de janeiro, uma pessoa do passado de Vince retorna no episódio The Right Hand of the Father. O episódio também mostra Eric tentando disciplinar sua equipe. Buddy fica perturbado após descobrir algo sobre seu filho. E em Keep Looking, que será exibido na quinta-feira, às 22h, Eric é obrigado a fazer o papel de mediador quando as tensões vêm à tona no vestiário. Luke é recrutado e Buddy enfrenta as dificuldades da paternidade.
A última temporada da série chega ao Brasil com mais de um ano de atraso em relação aos Estados Unidos, cuja estreia aconteceu em 27 de outubro de 2010. Depois de altos e baixos, "Friday Night Lights" foi cancelada ao final da temporada.

Receba nossas publicações por e-mail:

DEIXE SEU COMENTÁRIO (VIA FACEBOOK)
Não tem Facebook? Use o formulário abaixo:
Quer ter sua foto ao lado do comentário? Cadastre-se no Gravatar!
ATENÇÃO:
Toda e qualquer mensagem publicada através do sistema de comentários não reflete a opinião deste site ou de seus autores. As opiniões enviadas através deste sistema são de exclusiva e integral responsabilidade dos visitantes que dele fizerem uso.