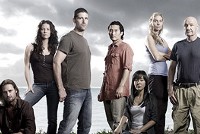 A nova temporada do AXN mal estreou e o canal guardou o melhor para março, quando chega ao Brasil a 4ª temporada de "Lost", pondo um fim a uma longa espera de seis meses.
O aguardado retorno da série será na segunda, 03 de março, às 21h, com um episódio especial com uma retrospectiva dos três primeiros anos da série. A estreia dos novos episódios começa pra valer na semana seguinte, no dia 10/03.
A temporada chega ao Brasil com um atraso de pouco mais de um mês em relação aos Estados Unidos, onde "Lost" estreou no dia 31 de janeiro, quando conquistou a excelente audiência de 16,14 milhões de telespectadores.
A história continua dos acontecimentos do final da temporada passada, e o primeiro episódio, The Beginning of the End, mostra Jack (Matthew Fox) e os sobreviventes da queda do vôo 815 da Oceanic Air lidando com a promessa do resgate deles. Jack entrou em contato com um navio cargueiro fora da ilha. Mas quando é revelado que Charlie (Dominic Monaghan) alertou que essas pessoas talvez não sejam quem elas digam ser, os sobreviventes ficam divididos sobre o que fazer. Jack está convencido de que as pessoas do navio cargueiro estão lá para resgatá-los, enquanto Locke (Terry O'Quinn) acredita o contrário, o que levará à uma divisão entre os sobreviventes.
Enquanto os produtores prometem desvendar muitos dos mistérios já mostrados na série, novos enigmas são criados, principalmente em relação aos flashfowards que mostrarão o que acontecerá com os sobreviventes que conseguirem sair da ilha.
O 4º ano também terá novidades no elenco. A principal delas, é o retorno de Michael (Harold Perrineau), que supostamente saiu da ilha com seu filho no final do segundo ano. Já quatro novos personagens farão parte da equipe do navio de resgate — Daniel Faraday (Jeremy Davies), Charlotte Staples Lewis (Rebecca Mader, "Justice"), Miles Straume (Ken Leung, "The Sopranos") e Frank Lapidus (Jeff Fahey).
"Lost" inicia agora a exibição de seus últimos 48 episódios, que serão exibidos em três temporadas até 2010. Mas com a greve dos roteiristas americanos, apenas 8 dos 16 episódios previstos para a 4ª temporada foram produzidos até momento, e pelo menos mais 6 episódios devem ser gravados ainda nesta temporada, informou o SériesOnline.

Receba nossas publicações por e-mail:

DEIXE SEU COMENTÁRIO (VIA FACEBOOK)
Não tem Facebook? Use o formulário abaixo:
Quer ter sua foto ao lado do comentário? Cadastre-se no Gravatar!
ATENÇÃO:
Toda e qualquer mensagem publicada através do sistema de comentários não reflete a opinião deste site ou de seus autores. As opiniões enviadas através deste sistema são de exclusiva e integral responsabilidade dos visitantes que dele fizerem uso.