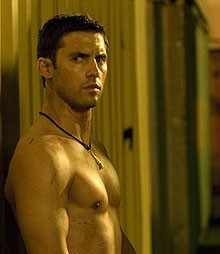 O ator americano Milo Ventimiglia, o Peter Petrelli da série "Heroes", revelou que nunca teve problemas ao interpretar gays, como no curta-metragem "Must Be The Music" (1996) ou no filme "Amaldiçoados" (2005), mas que identifica a ressalva da sociedade com relação à homossexualidade. "O fato das pessoas ainda se preocuparem com coisas desse tipo simplesmente me deixa perplexo", disse.
A declaração foi feita em recente entrevista à revista Advocate, onde o ator também revelou o que pensa sobre a política militar norte-americana do "Don't Ask, Don't Tell", que proíbe que soldados e oficiais se assumam homossexuais. "Gay ou hétero, você está carregando uma arma e lutando por nosso país, de modo que a sexualidade me parece irrelevante". Para ele, é compreensível que um soldado gay prefira não falar sobre o assunto porque isso atrairia uma atenção desenecessária. "Ao mesmo tempo, me entristece pensar que as pessoas não podem viver suas vidas abertamente, pensando que não serão aceitas", conclui.
Para o ator, o seriado "Heroes" está pronto para um herói gay. "O grupo de heróis do seriado - gays, heterossexuais, negros, brancos, qualquer coisa - somos todos outsiders. Nós somos tratados de maneira diferente, somos oprimidos de um jeito ou de outro, mas existe um contra-ponto entre isso e nos mantermos erguidos diante de tais diferenças. É nisso que tentaríamos focar caso um personagem fosse gay", completa.
E qual seria o poder desse herói gay? "Eu não sei. Quero dizer, talvez um cara gay que pudesse apenas voar já seria incrível", responde Milo.
Colaboração: Universo Mix

Receba nossas publicações por e-mail:

DEIXE SEU COMENTÁRIO (VIA FACEBOOK)
Não tem Facebook? Use o formulário abaixo:
Quer ter sua foto ao lado do comentário? Cadastre-se no Gravatar!
ATENÇÃO:
Toda e qualquer mensagem publicada através do sistema de comentários não reflete a opinião deste site ou de seus autores. As opiniões enviadas através deste sistema são de exclusiva e integral responsabilidade dos visitantes que dele fizerem uso.