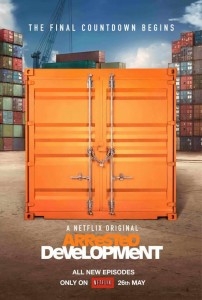 A Netflix não planeja brincar em serviço. Depois de extasiar os fãs de "Arrested Development" com o resgate da série, cancelada em 2006, o serviço de streaming pretende lançar uma nova temporada para a sitcom.
O CEO da empresa, Reed Hastings, falou na última quinta-feira, dia 30 de maio, sobre a recente disponibilização dos novos episódios da série e disse que a Netflix pode produzir mais uma temporada da atração. "A resposta à nova temporada foi grande, como tínhamos imaginado. Se a equipe estiver disposta a produzir mais episódios, nós teremos total interesse em veiculá-los", afirmou Hastings.
O diretor de conteúdo da Netflix, Ted Sarandos, enfatizou a vontade da empresa de aumentar o investimento em conteúdo original, que atualmente equivale a menos de 5% da receita bruta, para até 15% nos próximos dois anos.
Além de "AD", a Netflix conta com outras produções originais, como "House of Cards", "Hemlock Grove" e a inédita "Orange is The New Black", que estreia em julho.

Receba nossas publicações por e-mail:

DEIXE SEU COMENTÁRIO (VIA FACEBOOK)
Não tem Facebook? Use o formulário abaixo:
Quer ter sua foto ao lado do comentário? Cadastre-se no Gravatar!
ATENÇÃO:
Toda e qualquer mensagem publicada através do sistema de comentários não reflete a opinião deste site ou de seus autores. As opiniões enviadas através deste sistema são de exclusiva e integral responsabilidade dos visitantes que dele fizerem uso.