Novidades na programação. O canal pago AMC traz as novas temporadas de "Into The Badlands" e "Hap and Leonard" nos meses de março e abril, respectivamente.
A primeira estreia é a de "Into de Badlands", série que conta a história de Sunny (Daniel Wu), um jovem grande guerreiro que embarca em uma viagem através de terras perigosas em busca de sabedoria. O AMC estreia a segunda temporada da atração no domingo, dia 19 de março, às 22h. Confira a chamada da emissora:
A segunda novidade do canal é "Hap and Leonard", que migra do Sundance TV para o AMC. A atração é protagonizada por James Purefoy ("The Following") e Michael Kenneth Williams ("The Night Of"). Hap Collins (Purefoy) e Leonard Pine (Williams) são melhores amigos que sempre acabam se metendo em muitos problemas na cidade de LaBorn, a leste do Texas.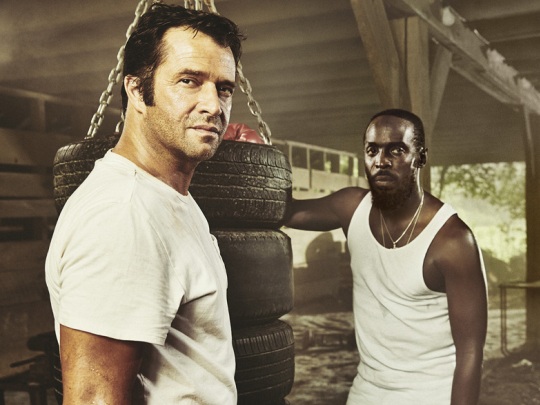 Hap é um texano branco, de quarenta e poucos anos. Ao se recusar a prestar o serviço militar e lutar no Vietnã, ele foi mandando para a prisão. Hap fez amizade com Leonard Pine, um gay negro veterano da guerra que tem dificuldades de lidar com seus rompantes de raiva.
Os capítulos da segunda temporada estreiam no AMC a partir do dia 04 de abril, terça-feira, às 22h.

Receba nossas publicações por e-mail:

DEIXE SEU COMENTÁRIO (VIA FACEBOOK)
Não tem Facebook? Use o formulário abaixo:
Quer ter sua foto ao lado do comentário? Cadastre-se no Gravatar!
ATENÇÃO:
Toda e qualquer mensagem publicada através do sistema de comentários não reflete a opinião deste site ou de seus autores. As opiniões enviadas através deste sistema são de exclusiva e integral responsabilidade dos visitantes que dele fizerem uso.