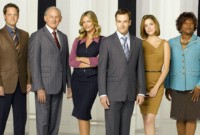 O canal Sony Entertainment Television terá novidades em abril, com a chegada dos novos dramas "Eli Stone" e "Breaking Bad" e da nova temporada de "Scrubs", além da estréia do 33º ano de "Saturday Night Live" e o programa musical "Live From Abbey Road".
A primeira a chegar é a 7ª temporada de "Scrubs", que retorna às noites de terça, no bloco "PI", a partir do dia 22 de abril, às 20h30. Originalmente previsto para ser o último ano da série, a temporada foi interrompida devido à greve dos roteiristas, tendo apenas 11 de seus 18 episódios produzidos.
"Esta temporada não será sobre se Elliot (Sarah Chalke) e J.D. (Zach Braff) ficarão ou não juntos", diz o criador da série Bill Lawrence. "É mais sobre se J.D. e Turk (Donald Faison) são um casal ou se J.D. um dia irá receber um abraço do Dr. Cox (John C. McGinley)". Apesar da brincadeira do criador e produtor da série, o episódio de estréia vai lidar justamente com o relacionamento entre J.D. e Elliot, enquanto eles questionam novamente se devem ou não ficar juntos. A temporada terá pelo menos o retorno de um convidado especial, Thomas Cavanagh ("Love Monkey", "Ed"), como o irmão de J.D. Já a volta de Scott Foley ("The Unit", "Felicity"), anunciada pelo criador da série, talvez não se concretize. E Zach Braff, o astro da série, também dirige o quinto episódio da temporada.
Apesar de ter uma média de apenas 6,217 milhões de telespectadores, "Scrubs" continua sendo uma das comédias mais assistidas da TV americana, o que levou à uma disputa entre o canal NBC e o ABC pela renovação da série para sua 8ª temporada. Infelizmente a NBC já informou que não renovará a comédia, enquanto a ABC ainda não se pronunciou oficialmente sobre a compra da série.
Logo depois, às 21h, tem "Eli Stone", drama sobre um advogado bem sucedido de uma grande firma de direito de São Francisco que sempre defendeu os ricos e os poderosos. Mas após ter uma série de estranhas alucinações, Eli Stone (Jonny Lee Miller, "Smith") tenta encontrar um sentindo mais profundo para a vida enquanto tenta manter o seu emprego e não destruir o seu relacionamento com sua noiva, Taylor (Natasha Henstride, "Commander in Chief", "She Spies"), a filha de seu imponente chefe, Jordan Wethersby (Victor Garber, "Justice", "Alias").
Após consultar seu irmão neurologista, Nathan (Matt Letsher, "The New Adventures of Old Christine", "Joey", "Good Morning, Miami"), Eli descobre que ele tem um aneurisma em seu cérebro que está causando suas alucinações, e que não pode ser operado. Mas o jovem advogado decide procurar uma outra alternativa e conhece o Dr. Chen (James Saito), um acupunturista que é especializado em medicina holística, e acredita que Eli pode ser um profeta. Enquanto tenta encontrar um rumo em sua vida, Eli também é testado por sua assistente assanhada, Patti (Loretta Devine, "Grey's Anatomy", "Boston Public"); seu colega ambicioso, Matt Dowd (Sam Jaeger); e a jovem e nova advogada da firma, Maggie Dekker (Julie Gonzalo, "Veronica Mars"), que vive questionando-o.
Criada e produzida por Greg Berlanti ("Brothers & Sisters", "Dirty Sexy Money", "Jack & Bobby", "Everwood"), "Eli Stone" estreou no final de janeiro deste ano no canal americano ABC. Com 13 episódios em sua 1ª temporada, e uma média razoável de 8,588 milhões de telespectadores, a série ainda não garantiu sua renovação. E entre os convidados especiais estão Tom Amandes ("Everwood"), Steve Harris ("The Practice"), James Remar ("Dexter"), Thomas Cavanagh ("Love Monkey", "Ed"), Katey Sagal ("8 Simple Rules"), Jennifer Aspen ("Rodney") e o cantor George Michael.
Fechando a noite, às 22h, chega "Breaking Bad", drama criado e produzido por Vince Gilligan ("Arquivo X"), que mostra a sombria história de um homem desesperado que se torna criminoso para garantir a segurança financeira de sua família.
Walter White (Bryan Cranston, "Malcolm in The Middle") é um pacato professor de química que vive no Novo México com sua esposa, Skyler (Anna Gunn, "Deadwood"), e seu filho adolescente, Walter Jr. (RJ Mitte, "Weeds"), que tem paralisia cerebral. Quando White é diagnosticado com um estágio avançado de câncer e recebe o prognóstico de que terá apenas dois anos de vida, ele começa a temer pelo pior e desenvolve um desejo incansável de garantir o futuro financeiro de sua família à todo custo, enquanto ele entra no perigoso mundo das drogas e dos crimes. A série explora como um típico pai de família se transforma num traficante quando os obstáculos normais da sociedade não se aplicam mais.
"Breaking Bad" estreou em janeiro no pequeno canal pago americano AMC (do drama "Mad Men", vencedor do Globo de Ouro 2008), com uma audiência de 1,35 milhão de telespectadores, e teve apenas 7 dos 9 episódios programados para a temporada produzidos devido à greve dos roteiristas. A série foi bem recebida pela crítica, que elogiou a performance de Bryan Cranston, até então mais conhecido por seu trabalho cômico em "Malcolm".
Com as estreias destas três novas séries, a atual programação das noites de terça-feira passam a ser exibidas apenas nas madrugadas, com "The Daily Show With Jon Stewart: Global Editon", à meia-noite; "Lil' Bush", à 00h30; "The Sarah Silverman Program", à 01h; e "That's My Bush", à 01h30. E enquanto "30 Rock" mantém seu horário às 20h00, a novata "10 Items or Less" deixa a programação do canal após o final de sua primeira temporada.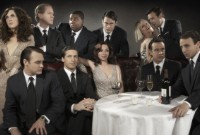 A 33ª temporada do humorístico "Saturday Night Live" estréia no dia 05 de abril, às 23h, com mais piadas, convidados surpresa e grandes apresentações e performances musicais.
Alguns anos após deixar os programas musicais de lado — quem assiste o canal desde sua chegada ao país deve se lembrar de "Sessions at West 54th" —, o Sony volta a apostar no gênero com a estréia de "Live From Abbey Road" no dia 19 de abril, às 20h.
O programa britânico, gravado no lendário estúdio londrino dos Beatles, traz performances ao vivo de grandes astros da música de uma forma mais intimista. Mesmo sem a presença de uma platéia ou de apresentador, o programa também mostra entrevistas e os bastidores da apresentação dos artistas. Cada um dos 12 episódios traz a apresentação de três cantores/bandas.
Entre as atrações estão Norah Jones, John Mayer, Snow Patrol, Red Hot Chili Peppers, Iron Maiden, Natasha Bedingfield, Gipsy Kinds, Jamiroquai, Goo Goo Dolls, Muse, Paul Simon, Massive Attack, Corinne Bailey Rae, Gnarls Barclay e The Killers.
Com a estréia de "Live From Abbey Road", "Queer Eye For The Straight Guy" passa a ser exibida uma hora mais tarde, às 21h. Além disso, três séries se despedem do canal: "The Best Years" (que teve o final da 1ª temporada exibido em 27 de março), "Top Design" (após o final da temporada no dia 12 de abril) e "Carpoolers" (após o final da temporada no dia 25 de abril).

Assunto(s):
Programação
,
Reality Show

Seriado(s) relacionado(s):
30 Rock
,
Breaking Bad
,
Eli Stone
,
Lil' Bush
,
Live From Abbey Road
,
Queer Eye For The Straight Guy
,
Saturday Night Live
,
Scrubs
,
Sessions at West 54th
,
That's My Bush
,
The Daily Show With Jon Stewart: Global Edition
,
The Sarah Silverman Program

Receba nossas publicações por e-mail:

DEIXE SEU COMENTÁRIO (VIA FACEBOOK)
Não tem Facebook? Use o formulário abaixo:
Quer ter sua foto ao lado do comentário? Cadastre-se no Gravatar!
ATENÇÃO:
Toda e qualquer mensagem publicada através do sistema de comentários não reflete a opinião deste site ou de seus autores. As opiniões enviadas através deste sistema são de exclusiva e integral responsabilidade dos visitantes que dele fizerem uso.