A tão esperada 6ª temporada de "Mad Men" finalmente chega no Brasil. Com somente quinze dias de atraso em relação aos Estados Unidos, a HBO Brasil estreia os novos episódios no dia 22 de abril, às 21h.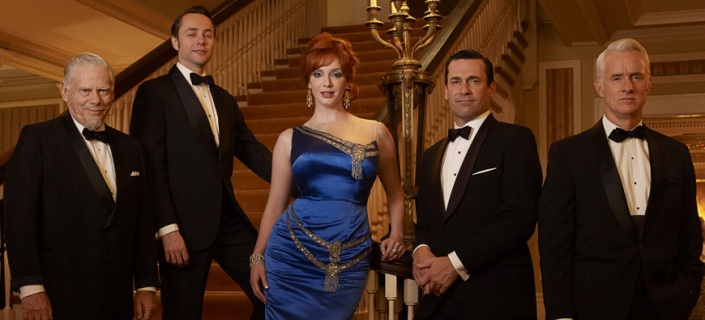 A quinta temporada explorou o casamento de Don Draper com sua segunda mulher, Megan que o leva a se descuidar do trabalho na agência de publicidade Sterling Cooper Draper Pryce, até que ela o decepciona ao decidir deixar o mundo da publicidade em busca de uma carreira de atriz.
Enquanto isso, Lane Pryce, Pete Campbell, Roger Sterling, Joan Harris e Peggy Olson aprendem que tanto no lado pessoal como no profissional o lema é "cada um por si", já que todos passam por momentos difíceis em suas vidas.
O episódio de estreia da sexta temporada, intitulado The Doorway, Part 1 foi escrito por Weiner e dirigido pelo produtor executivo Scott Hornbacher. O segundo episódio, The Doorway, Part 2, foi dirigido por Jon Hamm.
Confira aqui o primeiro vídeo de divulgação da nova temporada; assista aqui o segundo vídeo; veja aqui as fotos promocionais.

Receba nossas publicações por e-mail:

DEIXE SEU COMENTÁRIO (VIA FACEBOOK)
Não tem Facebook? Use o formulário abaixo:
Quer ter sua foto ao lado do comentário? Cadastre-se no Gravatar!
ATENÇÃO:
Toda e qualquer mensagem publicada através do sistema de comentários não reflete a opinião deste site ou de seus autores. As opiniões enviadas através deste sistema são de exclusiva e integral responsabilidade dos visitantes que dele fizerem uso.