As séries sobre família fizeram muito sucesso nos anos 1980. Muitas delas lançaram atores e atrizes famosos que, posteriormente, fizeram sucesso em outras séries, filmes, programas... Não é a toa que esse formato de seriado ainda faz muito sucesso nos dias de hoje, mas nenhum deles se compara aos programas de família que tivemos nos anos 1980.
Veremos aqui cinco famílias que tornaram a convivência em família algo mais divertido ou — até mesmo — frustrante e cheia de choradeiras e momentos emotivos. Here we go: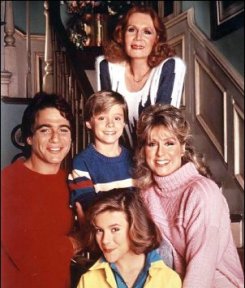 Who's The Boss?:
Antes de Alyssa Milano se tornar uma das três bruxas encantadas de "Charmed", ela era Samantha Micelli, filha de Tony Micelli (interpretado por Tony Danza), que de repente passa a morar com seu pai, em seu local de trabalho. Vamos entender: Angela (Judith Light) é uma mulher que trabalha fora e não tem tempo para cuidar da casa ou do filho pequeno. Assim, ela decide contratar uma empregada/babá, mas quem aparece em sua porta é um homem, Tony, e sua filha Samantha. Os quatro passam a viver na mesma casa, tendo como companhia a mãe de Angela, Mona (Katherine Helmond), uma vovó enxerida que não perde uma única oportunidade para conhecer homens interessantes.
A família não era muito convencional, já que ela era formada por uma mãe e seu filho, um pai e sua filha e uma vovó considerada "devoradora de homens". É claro que a tensão sexual entre Tony e Angela aumentava a cada dia. Afinal, ela era obcecada pelo trabalho e quando chegava em casa, encontrar um homem dedicado cuidando de sua família é, no mínimo, desejável. O programa foi um sucesso. Durou 8 temporadas e teve 196 episódios.
O enredo parece familiar? Pois é, atualmente temos uma história parecida acontecendo em "Melissa & Joey" (exceto pela parte da vovó enxerida). A série "Who's The Boss?" chegou ao Brasil pela Warner Channel e permaneceu na grade de programação do canal durante muito tempo, até ser deixada de lado (como aconteceu com muitas outras séries clássicas). Na TV aberta, a Band criou uma versão tupiniquim da série, intitulada "Santo de Casa" (podemos dizer que não deu muito certo, né?).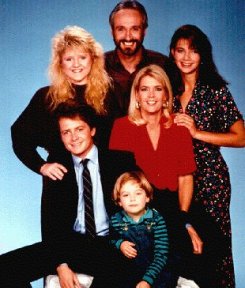 Family Ties:
O que acontece quando dois hippies resolvem se casar e começar uma família? O resultado foi quatro filhos, um completamente diferente do outro. O filho mais velho, Alex, era interpretado por Michael J. Fox, antes do seu sucesso nos cinemas "De Volta Para o Futuro". Ele era um estudante republicano conservador (aliás, seu ídolo era o ex-presidente Ronald Reagan). A filha mais velha, Mallory (Justine Bateman), era considerada a "cabeça de vento" da família, preocupada somente com suas roupas e namorados. Jennifer (Tina Yothers) era inteligente, sarcástica, a típica adolescente. Por último temos Andrew (Brian Bonsall), o bebê que chegou ao universo da família Keaton para uni-los ainda mais.
Essa família também não era das mais convencionais. Os pais, como ex-hippies, eram muito mais liberais e tinham uma visão mais aberta do mundo — especialmente por se tratar dos anos 1980. Os filhos eram mais "caretas" do que os próprios pais, talvez daí venha o nome brasileiro de "Caras e Caretas" (bizarro? Veja mais aqui). O filho Alex, no decorrer das sete temporadas da série, se mostrou muito político e conservador e teve uma namorada bastante conhecida dos seriemaníacos: Courteney Cox interpretou Lauren Miller nas duas últimas temporadas.
No Brasil a série foi exibida pela Rede Globo, em 1986. Infelizmente a emissora só contentou os fãs com duas temporadas, mantendo as outras cinco inéditas. Mais tarde, já nos anos 2000, o Canal Sony foi o responsável por trazer novamente a série ao país, exibindo suas temporadas diariamente. Porém, como é de costume do canal, a série foi deixada de lado em 2002 e nunca mais retornou à grade de programação. São 176 episódios que valem a pena assistir!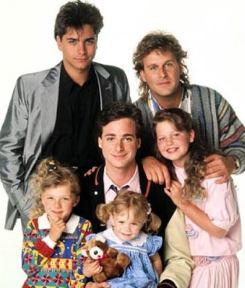 Full House:
Falando de famílias atípicas... "Full House" relata a vida de Danny, um pai de três lindas meninas que ficou viúvo e precisa dar conta da criação das filhas. Sem sua esposa, Danny (Bob Saget) precisa achar uma maneira de conciliar trabalho e família e, para isso, pede ajuda ao seu cunhado Jesse (John Stamos) e seu amigo Joey (Dave Coulier) e os dois passam a morar com a família Tanner. A filha mais velha é D.J. (Candace Cameron), uma adolescente com o fardo de se tornar o exemplo para as irmãs mais novas Stephanie (Jodie Sweetin) e Michelle (interpretada pelas gêmeas Mary-Kate e Ashley Olsen). Desde a primeira menstruação, até namorados e brigas na escola, a família Tanner se mostrou rígida na criação das meninas.
E claro, a família era nada convencional. Com o passar das oito temporadas, a casa ficava cada vez mais cheia. Além de Danny, suas três filhas e Joey, Jesse se casa com Rebecca (Lori Loughlin) e os dois acabam se tornando pais de dois gêmeos. Era uma verdadeira "Full House" (diferente do nome em português, "Três É Demais"). Se não bastasse os nove moradores da casa, Kimmy (Andrea Barber) passava muito tempo com essa família.
No Brasil o programa foi exibido durante muito tempo pela Warner Channel. Atualmente o canal não exibe a série (assim como deixou de exibir muita coisa boa em suas manhãs). O SBT também transmitiu o seriado durante vários anos, em vários horários e dias diferentes. As oito temporadas renderam 192 episódios de muita diversão e emoção.
Growing Pains:
Uma mãe que trabalha fora e um pai que trabalha em casa. "Growing Pains" conta a história da família Seaver. Jason (Alan Thicke) é o pai, um psiquiatra que decidiu trabalhar em casa; Maggie (Joanna Kerns), sua esposa, é jornalista, âncora de notícias do canal 19. O filho mais velho, o adolescente Mike (Kirk Cameron) é um charmoso e malandro garoto que faz o que é preciso para que as coisas aconteçam do seu jeito. Carol (Tracey Gold) é o cérebro da família, porém, uma adolescente como as outras, que inclusive precisou lidar com a morte de seu namorado. Ben (Jeremy Miller) é ingênuo e um grande artista, vivendo às custas das brincadeiras de mau gosto do irmão. Por último veio Chrissy, o bebê da família que simplesmente "cresceu" entre a 4ª e a 5ª temporada.
Claro que, para a época, a família era nada convencional, afinal, o pai passava mais tempo em casa do que a mãe. Apesar disso, a série foi um tremendo sucesso de público na ABC durante as sete temporadas que ficou no ar. Um fato curioso: Kirk Cameron, o Mike Seaver, é irmão da atriz Candace Cameron, a D.J. de "Full House". Os irmãos fizeram parte do horário nobre da mesma emissora, na mesma época, ambos em séries de família.
O galã Leonardo DiCaprio esteve presente na última temporada da série, mas aparentemente ele não gosta muito de falar sobre isso. No Brasil, "Growing Pains" chegou primeiramente pela Warner Channel, que exibia as temporadas nas manhãs do canal (mas claro, não exibe mais). Depois foi a vez do SBT trazer a série, intitulada "Tudo Em Família", transmitindo os episódios nas manhãs (e bota manhã nisso: às 05h30) de domingo. Foram 164 episódios e um filme!
The Wonder Years:
Ser adolescente não é fácil. Mas e quando se é um adolescente nos anos 1960? Essa foi a história do caçula Kevin Arnold (Fred Savage) e sua família, na clássica série "Anos Incríveis". O patriarca da família era Jack Arnold (Dan Lauria), um sujeito durão e muito rígido com seus filhos e sua esposa. A mãe era Norma (Alley Mills) e ela cuidava excessivamente dos filhos e queria ser independente, trabalhar fora e ganhar seu próprio dinheiro. No embalo dos tempos pós-modernos queria se livrar do fogão. A filha mais velha, Karen (Olivia d'Abo), era a rebelde hippie Flower Power, que fazia de tudo para provocar o pai. E Wayne (Jason Hervey), o irmão do meio, fazia o tipo chato que vivia implicando com o caçula da família.
Essa sim era uma família convencional. Pai mandão, mãe submissa, filhos com medo do pai e tudo de mais típico que poderia haver em uma família americana. A série era narrada em primeira pessoa através de um Kevin mais velho. Suas confissões eram nostálgicas e seus problemas eram tratados, muitas vezes, de maneira cômica, mostrando situações da rotina de uma família vivendo nos anos 1960.
No Brasil, a série foi apresentada, primeiramente, pela TV Cultura, logo no início dos anos 1990. Virou febre entre crianças e adolescentes e hoje é considerada um marco na vida de muitos adultos. Posteriormente a Band e o Multishow exibiram o programa, porém, atualmente, nenhum desses canais mantém "The Wonder Years" no ar. Foram 115 episódios divididos em seis temporadas de muita emoção.
Curiosamente, a série jamais foi lançada em DVD. O motivo? A trilha sonora que compõe todo o programa. Mais de 300 músicas fazem parte do seriado, o que inviabilizou a comercialização por conta dos direitos autorais. Uma alternativa seria trocar a trilha por outra mais barata, porém, a ideia foi descartada porque os fãs defendem a comercialização do DVD com toda a trilha original.
A abertura do seriado foi uma ideia fantástica. Ela foi toda filmada para parecer trechos de filmes caseiros, daqueles feitos em família. O toque final foi fazer o vídeo ficar com aspecto de velho, daqueles que são assistidos em projetores de filmes, algo recorrente dos anos 1960. Confira:

Receba nossas publicações por e-mail:

DEIXE SEU COMENTÁRIO (VIA FACEBOOK)
Não tem Facebook? Use o formulário abaixo:
Quer ter sua foto ao lado do comentário? Cadastre-se no Gravatar!
ATENÇÃO:
Toda e qualquer mensagem publicada através do sistema de comentários não reflete a opinião deste site ou de seus autores. As opiniões enviadas através deste sistema são de exclusiva e integral responsabilidade dos visitantes que dele fizerem uso.