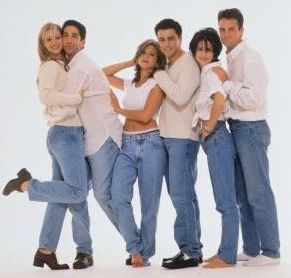 É fato que "Friends" é uma das séries mais queridas de todos os tempos. Muitos momentos divertidos e emocionantes foram as razões que tornaram o seriado um sucesso imensurável no mundo todo. Afinal, quem não chorou quando Ross e Rachel were on a break ou quando Monica e Chandler finalmente "se pedem em casamento"?
E, é claro, que muita coisa não foi mostrada no programa, durante os 10 anos que ficou no ar. Fatos dos bastidores passaram batido. Então aqui e agora vamos revelar 15 coisas sobre os seis amigos de Nova York que todo fã deve saber. Vamos lá?
15º — Os atores escalados para interpretar os protagonistas não eram famosos na época. A mais conhecida era Courteney Cox, que tinha participado do filme "Ace Ventura", ao lado de Jim Carey e, na TV, participou regularmente das duas últimas temporadas de "Family Ties", como a namorada de Alex Keaton (Michael J. Fox).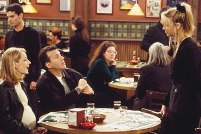 14º — Phoebe foi baseada na personagem de outro seriado que fazia sucesso na época: "Mad About You". Na sitcom de Paul Reiser e Helen Hunt, Lisa Kudrow interpretava Ursula Buffay, uma garçonete atrapalhada e — por que não dizer — lunática. A Phoebe de Kudrow acabou lhe rendendo uma irmã gêmea, Ursula fora trazida de "Mad About You" e ganhou vida também em "Friends", como a irmã malvada.
13º — Matt LeBlanc, o Joey, não agradou muito os produtores na época da escolha do elenco. Seu personagem, a princípio, foi considerado batido e arriscado. O estilo "garanhão-sem-cérebro" estava perseguindo LeBlanc, pois ele tinha interpretado esse tipo de personagem em três séries diferentes: "Married... With Children", "Top of The Heap" e "Vinnie & Bobby". Detalhe: o ator interpretou O MESMO personagem em todas as três séries: Vinnie Verducci. No fim, Joey se mostrou mais do que um garanhão desprovido de inteligência, não é mesmo?
12º — "Friends", antes de ganhar o nome final, definitivo, se chamou "Once Upon a Time in The West Village", "Insomnia Cafe", "Across The Hall" e "Friends Like Us". Este último foi desconsiderado porque na época a emissora concorrente, ABC, exibia a série "These Friends of Mine", protagonizada por Ellen DeGeneres e os nomes foram considerados muito semelhantes. A partir daí, os produtores mudaram o nome para "Six of One" e, por fim, decidiram optar por "Friends".
11º — Os personagens têm todos nomes compostos, porém, nem todos foram revelados durante a série. Sabemos que Rachel se chama Rachel Karen Green, que Joey é, na verdade, Joseph Francis Tribbiani e Chandler teve o infortúnio de se chamar Chandler Muriel Bing. Em The One With The Bullies, na 2ª temporada, descobrimos que as iniciais de Monica são MEG (Monica E. Geller, para muitos o "E" seria de Elizabeth). Quando Phoebe completa 30 anos, ela procura Ursula e descobre que sua irmã se chama Ursula Pamela Buffay, mas não ficamos sabendo o nome do meio de Phoebe, pois Ursula vendeu a certidão de nascimento da irmã. Ross também não teve seu nome completo revelado (boatos sugerem que ele se chama Ross Eustace Geller).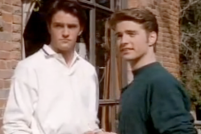 10º — Matthew Perry interpretou um riquinho problemático, jogador de tênis, em um episódio de "Beverly Hills, 90210", antes de entrar para o elenco de "Friends". Seu personagem estudava na Beverly Hills High, colégio que, coincidentemente, foi onde o ator David Schwimmer, o Ross, estudou de verdade. E na vida real, Matthew Perry já jogou tênis profissionalmente.
9º — Na época em que Phoebe engravidou do irmão (isso nunca soa bem, não é?), a atriz Lisa Kudrow havia engravidado na vida real. A gravidez da atriz, no entanto, não tinha como ser escondida e ela não poderia ter suas aparições reduzidas. Sendo assim, Phoebe engravidou de trigêmeos para completar a felicidade de seu irmão e sua cunhada. Os produtores, na época, temeram que a atriz pudesse ter complicações ou perder o bebê, o que seria desagradável para Kudrow, pois ela teria de ir até o fim com a gravidez da personagem. Felizmente deu tudo certo!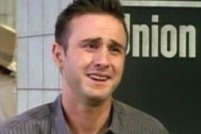 8º — David Arquette, ex-marido de Courteney Cox, fez uma aparição na série, no episódio The One With The Jam, da 3ª temporada. O capítulo foi filmado na mesma época em que o ator e Cox filmavam juntos o primeiro filme "Pânico". Os dois se casaram em 1999, tiveram uma filha e, em 2010, anunciaram a separação. Antes de David, Courteney namorou por cinco anos o ator Michael Keaton.
7º — O último episódio de "Friends" é o quarto episódio mais assistido da TV americana. Em primeiro lugar está a série "MAS*H", com 105 milhões de telespectadores. Em 2º temos "Cheers", com 80,4 milhões. A terceira posição fica por conta de "Seinfeld", com 76,2 milhões. E a nossa querida série "Friends", detentora do 4º lugar, teve seu episódio final apreciado por 52,5 milhões de telespectadores.
6º — Uma curiosidade não-relacionada com a série, mas com os atores, que vale a pena: Courteney Cox participou do clipe musical "Dancing in The Dark", de Bruce Springsteen, fazendo o papel de uma fã que subia no palco e dançava com o cantor. E Matt LeBlanc pode ser visto no clipe da música "Miracle", do Bon Jovi; e no clipe de "Walk Away", de Alanis Morissette (em sua época mais dance). Mas tudo isso foi antes da existência de "Friends".
5º — Durante os testes para o elenco e as adaptações finais da série, Jennifer Aniston deveria fazer o teste para o papel de Monica e Courteney Cox deveria fazer o teste para o papel de Rachel. O personagem de Chandler deveria ser gay e, na primeira temporada, Jennifer Aniston e David Schwimmer eram os atores mais bem pagos da série. A partir da 3ª temporada, como num acordo coletivo, todos eles passaram a ganhar a mesma quantia e Aniston e Schwimmer tiveram seus salários reduzidos.
4º — Lisa Kudrow fez o teste para interpretar Roz Doyle em "Frasier", mas perdeu o papel para Peri Gilpin. Jon Cryer, o Alan de "Two & a Half Men", foi o primeiro ator cogitado para o papel de Chandler, porém, ele recusou. Courteney Cox participou da versão cinematográfica de "He-Man", em 1987.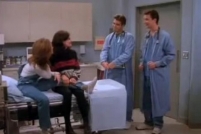 3º — "Friends" e "ER" estrearam no mesmo ano, no mesmo canal. A diferença é que a série médica estreou na segunda-feira e os seis amigos fizeram sua primeira aparição na quinta. Além dessa coincidência, os atores George Clooney e Noah Wyle, ambos atores do seriado médico do County General Hospital de Chicago, fizeram uma aparição em "Friends". Em The One With Two Parts: Part Two, da primeira temporada, Rachel cai da varanda do apartamento e fica presa pelas luzes de Natal. No hospital, ela conhece dois médicos e eles convidam Monica e Rachel para sair. E claro que tudo não vai além de muita confusão e bizarrices.
2º — Além de George Clooney e Noah Wyle, muitos outros atores participaram de "Friends". Muitas celebridades fizeram sua pontinha no seriado. Entre eles, temos: Susan Sarandon, Brad Pitt, Julia Roberts, Soleil Moon Frye, Reese Witherspoon, Billy Cristal, Robin Williams, Jean-Claude Van Damme, Sean Penn, Charlie Sheen, Charlton Heston, Bruce Willis, Helen Hunt, Danny DeVito, Alec Baldwin, Winona Ryder, Ellen Pompeo, Anna Faris, Christina Applegate, Elle Macpherson, Hugh Laurie, Kathleen Turner, Jason Alexander, Freddie Prinze Jr. e Tom Selleck.
1º — Sabe a clássica abertura da série? Aquela na fonte? Então, ela foi gravada em um rancho da Warner Bros, por volta das 04h da manhã. O sofá do Central Perk foi levado por um caminhão da produção. A música "I'll Be There For You", do grupo The Rembrandts, no entanto, poderia nunca ter feito parte da história do seriado. Isso porque a abertura original da série, ainda com o título "Friends Like Us", era para ser outra, ao som de "Shiny Happy People", do REM. Uma abertura, supostamente a abertura original da série, vazou na internet (como tudo costuma vazar) e agora podemos conferir como era para ser a tão famosa introdução do programa:
Confira mais curiosidades aqui e aproveite para conferir a 2ª parte deste especial.

Receba nossas publicações por e-mail:

DEIXE SEU COMENTÁRIO (VIA FACEBOOK)
Não tem Facebook? Use o formulário abaixo:
Quer ter sua foto ao lado do comentário? Cadastre-se no Gravatar!
ATENÇÃO:
Toda e qualquer mensagem publicada através do sistema de comentários não reflete a opinião deste site ou de seus autores. As opiniões enviadas através deste sistema são de exclusiva e integral responsabilidade dos visitantes que dele fizerem uso.